For many young Canadians, planting trees is more than just a job. It's a way of life – and it could be catching on, thanks to a popular video by Leslie Dart. While working for a logging company, the 29-year-old filmed the herself using the speedy method that allowed her to plant 4,545 trees in a single day. She told the Terrace Standard that the summer gig is "incredibly rewarding."
In Canada, reforestation plans are incredibly important. In fact, the law requires that a certain number of trees be planted per year to compensate for those lost to wildfires and the logging industry. Many college students are drawn to tree planting as a summer job, for which they receive 13-27 cents per tree. Those who genuinely love the work often end up coming back for years.
It's not easy work, according to Leslie. Not only is it physically grueling, but it also exposes laborers to the elements, including inclement weather.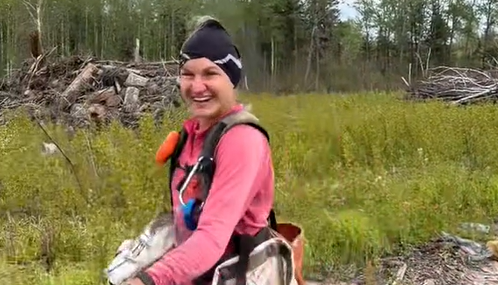 "It could start the day off sunny and then minutes later, it will just be raining, torrential downpours, hailing or snowing. You never know what to expect," she described. "There were some days that we were planting through a heat wave, so we had like 37-to-40-degree weather for several days straight and that was really difficult."
Leslie has also had to endure being bitten by mosquitoes while trekking through rocky terrain. Then, there's the threat of local wildlife becoming aggressive. While Leslie herself has only seen most large animals from afar, a 21-year-old woman performing the same job just survived a bear attack last week.
So far, Leslie has planted a total of 372,290 in the past few years. However, she's still nowhere near beating the Guinness World record. That honor belongs to Kenny Chaplin, who once planted 15,170 trees in 19 hours. After 35 years on the job, he says he'd recommend it to anyone.
"I think every parent in Canada should be sending their kid out tree planting because it will take your child and it'll turn them into a worker," he explained. "They'll learn how to work, they'll have responsibility. They'll have money in their pockets."
Watch Leslie's viral tree-planting video below!
You can find the source of this story's featured image here.
Want to be happier in just 5 minutes a day? Sign up for Morning Smile and join over 455,000+ people who start each day with good news.