When a python was at large at the Australia Zoo, the biggest concern wasn't getting him into an enclosure — it was getting him out of the vending machine! To that end, zoo staff contacted someone known for having a way with dangerous reptiles: Robert Irwin, son of the late Steve Irwin. As soon as the zoologist received the call, he got in his car and headed out to rescue the trapped snake. Irwin also filmed the unusual mission and uploaded the video on TikTok!
"This is a first," the 19-year-old chuckled at the beginning of the vlog.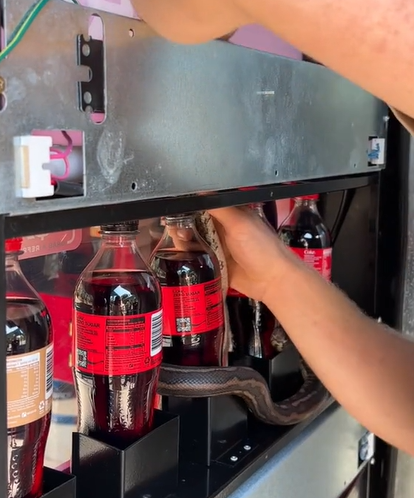 When Irwin arrived on the scene, he spotted the scaly runaway nestled behind a row of Coca-Cola bottles. A repairman opened up the machine so that Irwin could get to the python.
"This is our chance for a free Coca-Cola," Irwin said to the camera.
He then removed a panel from inside the vending machine, allowing him to reach the area where the snake was curled up.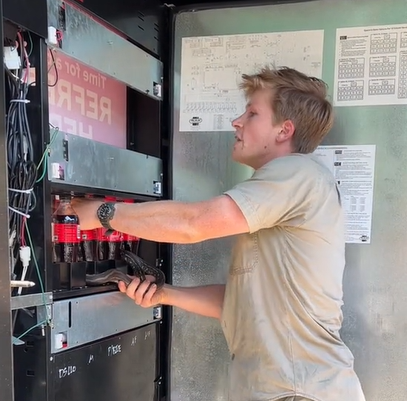 "So what we don't want is for him to go up the wiring," explained the zoologist. "We need to pull him up at the front. We don't want to make him too upset because we want him to come out nice and smooth."
Thankfully, Irwin was able to remove the python with ease. He continued to hold the snake gently as he gave viewers a closer look at the stowaway. He also pointed out that, judging from the fact that the tip of the reptile's tail was missing from a previous injury, the little guy had likely gotten into this kind of trouble before.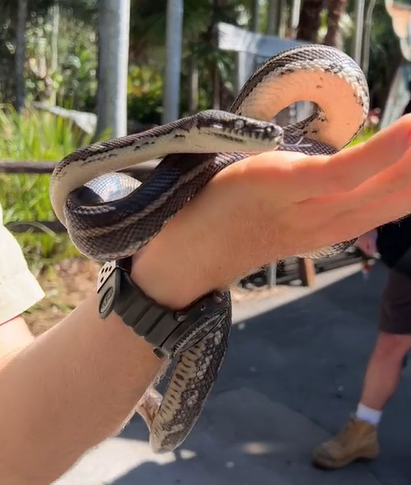 "Don't go in anymore vending machines, alright?" Irwin cautioned the snake.
According to Parade, Irwin's next course of action would be to transfer the python to a different location within the zoo — preferably somewhere that didn't also contain sugary beverages.
Watch the video below to see the unconventional rescue!
You can find the source of this story's featured image here.
Want to be happier in just 5 minutes a day? Sign up for Morning Smile and join over 455,000+ people who start each day with good news.