In this day and age, it's easy to forget the ways that we can help each other. This neighbor stayed alert and was able to help an elderly woman who fell across the street!
When Sandy, an elderly neighbor, took a tumble in her garage, this neighbor noticed straight away. She sprinted across her yard to Sandy's aid, yelling "Are you okay?!" as she ran.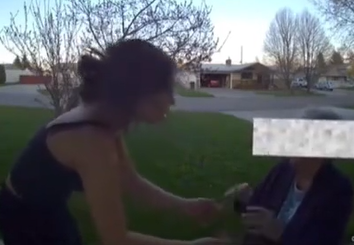 Later, Sandy came by the house to thank her neighbor and report the news that she had a sprained back, but was doing alright. The two neighbors embraced, overwhelmed by the power of community.
Thousands of folks have viewed this simple, but powerful, video, taking to the comments to reflect on the moment.
"The way you take off running to her… you both are so blessed to have each other," said one viewer.
"1st thing out of her mouth, 'Do you need anything?' That's a neighbor and that's what community is supposed to look like! God bless," said another.
These two demonstrated the power of community. When someone is in need, take the time to provide some aid. It made a big impact.
Check out the full clip below of this neighbor lending help to an elderly woman. You might need to grab the tissues first, though!
The featured image for this post is from TikTok.
Want to be happier in just 5 minutes a day? Sign up for Morning Smile and join over 455,000+ people who start each day with good news.