Delivering packages for United Parcel Service (UPS) can be strenuous. UPS drivers put in long hours, with tight schedules, and sometimes rush from porch to porch. Our video shows one hurried driver updating the delivery information on a handheld device as he rushes to his next stop.
A slight miscalculation with his foot caused the UPS driver to tumble off the customer's porch. He landed on the walkway, showing us a great rendition of the "sploot" position. In case you aren't familiar… Here are some squirrels demonstrating the fine art of splooting for you:
After his tumble, the UPS driver quickly gets up and makes his way back to his truck. Once he got to his truck and composed himself, he decided that he should notify the homeowner of his tumble so they could enjoy it too. He wrote a quick note on the delivery slip advising them to check the Ring camera footage.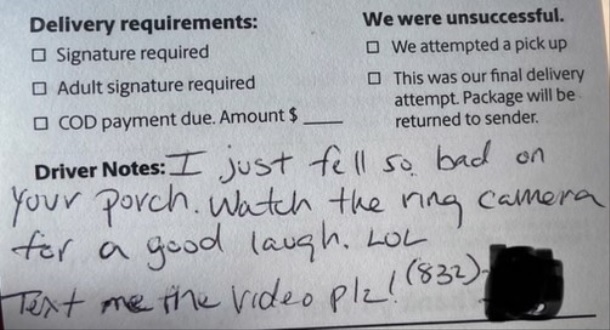 He made an additional request for a copy of the video. This UPS driver maintains a fairly active TikTok channel and wanted to post it showing how silly a typical day at work can be. That's where we found it, and we were not disappointed. We're glad this young man can poke fun at himself. Thank you for sharing!
You can find the source of this story's featured image here.
Want to be happier in just 5 minutes a day? Sign up for Morning Smile and join over 455,000+ people who start each day with good news.