Children are like sponges. They absorb everything around them from a very early age. It begins with exploring their fingers and toes, facial features, and what their parents do. They watch, and they learn. Your child will naturally pick up on those traits and habits when you model your example of good behavior patterns. Parenting advice specialists stress the importance of providing your child with good role models. This child's father is obviously one, because after watching Dad help mom out while cleaning several times, this toddler does the same and picks up the rug while mom cleans.
When we set a good example for our children, they see that and mimic our behavior. The video below exemplifies that in a very poignant way. Life lessons begin at an early age. The right lessons can help your child as they continue through adulthood.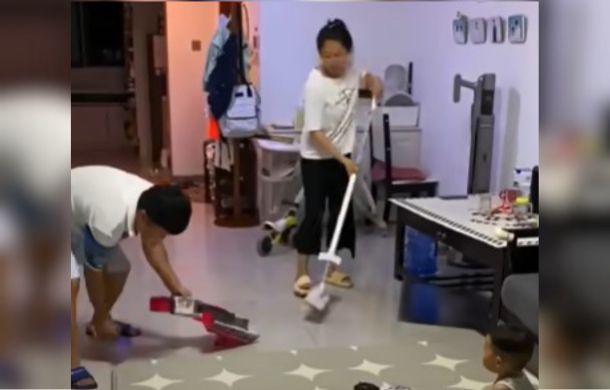 In the image above, you can see the dad helping mom as she mops the floor. He is gathering the toys and lifting the carpet for her as their toddler watches. This is the daily routine for the small family. It sets a wonderful example for their child. This can follow a child throughout their life. They will become good leaders by following this pattern when they enter school and the working world.
Day after day, the parents follow the same routine, leading by example. Seeing what the parents do each day, their young child accepts the process. One day, the father wasn't around when Mom began cleaning. Noticing this, the child did something we can only describe as truly amazing. The toddler picks up rug while mom cleans, imitating the father perfectly in the most wholesome way.
You can find the source of this story's featured image here.
Want to be happier in just 5 minutes a day? Sign up for Morning Smile and join over 455,000+ people who start each day with good news.