The Donahue Clan consists of a mom, dad, and their three kids. Mom documents the entertaining escapades of raising two boys and a girl on her TikTok channel. Recently, at a family outing, the boys entered a hotdog eating contest. That's a normal activity; both boys gave it their wholehearted attention. The oldest boy won, taking home the blue ribbon… but that spurred a bit of competitive behavior from the daughter, Grace!
Little Grace also insisted on trying the hotdog eating contest. However, she was the only contestant in her age bracket. In order to make it a "real" competition, a HUGE gentleman stepped up to "compete" against Grace. To make it a fair contest, there was a slight rule alteration to compensate for the size difference. The nice man was required to eat two hotdogs for each one that Grace ate.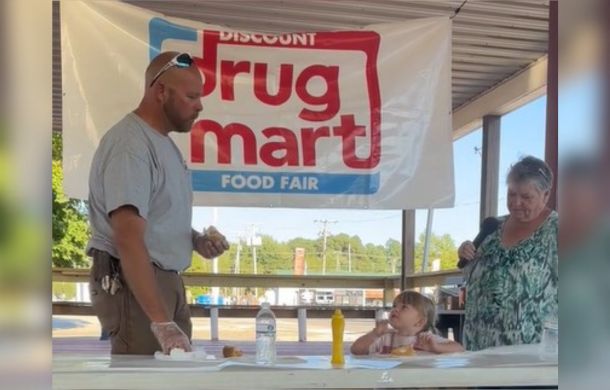 As the competition began, the contestants got water to wash down their hotdogs. Grace seemed to like the water more than the meal but steadily gnawed through the hotdog. The man, good sport that he was, took his time in consuming his two dogs, taking frequent breaks and chewing each bite several (hundred) times.
At one point, when no one was looking, the helpful contest proctor tore off a section of Grace's hotdog and vanished it to the ether. You can hear Mom cheering for Grace in the background as the crowd eagerly awaits the final bite. In the end, Grace was victorious! This tiny tot proved that she was hungry, although she did ask to take some home for later! She finished her hotdog before the big man finished his two and took home the blue ribbon! Good job Grace!
You can find the source of this story's featured image here.
Want to be happier in just 5 minutes a day? Sign up for Morning Smile and join over 455,000+ people who start each day with good news.