When Javier Dividu suffered a brain aneurysm at the age of 16, he wasn't expected to survive. In fact, emergency room doctors gave him about 24 hours to live. However, two years later, Javier was walking across the stage at his high-school graduation with help from his parents. His road to recovery wasn't easy, but care professionals say his determination to receive his diploma made a big difference during rehabilitation!
"By tapping into that goal every single time he was in the clinic, it gave him the motivation to know that yes, we can reach it," said Edmoly Plantijn from Orlando Health Advanced Rehabilitation Institute, according to USA Today.
Javier spent a month in a coma, his mother, Sonia Hilario-Dividu, reported. She remained with her son while he was in intensive care. When he finally woke up, his speech and memory were impaired. He was unable to walk or move his right arm, making him what his therapists called a "max-assist" patient. This meant that he could not take care of himself, requiring assistance with even the most basic tasks.
"It was not easy. I didn't move," recalled Javier of the experience.
It took months of occupational therapy to help the teen stand on his own two feet. Even at age 18, his mom had concerns about him walking during his graduation.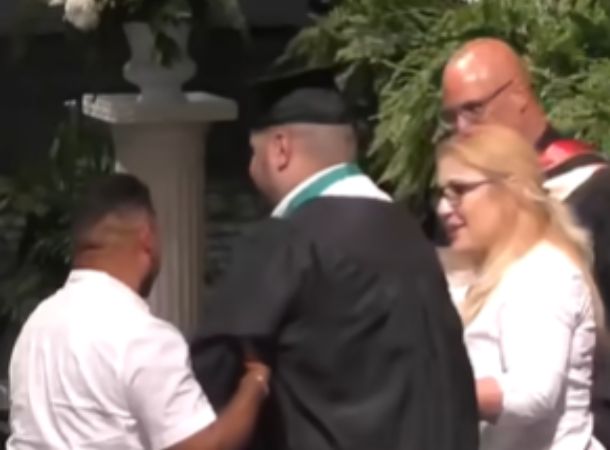 "I said, 'Javier, you sure that you stand up?'" Sonia had asked him. However, he was determined to accept his diploma without the aid of a walker.
"And he did it," said Sonia proudly.
Video of the moment shows Javier's parents supporting him as he makes his way across the stage in his cap and gown. The crowd cheered for the grad as he finally got to realize his dream.
Watch the video below to see Javier walk at his graduation!
You can find the source of this story's featured image here.
Want to be happier in just 5 minutes a day? Sign up for Morning Smile and join over 455,000+ people who start each day with good news.