A New Jersey high school just honored a very special graduate in the class of 2023. A golden retriever named Spiffy has completed his obedience and certification training to become a therapy dog! This four-legged scholar has a history serving the Scotch Plains-Fanwood High School; he's even named after the SPF school district. On June 21, Spiffy was included in the ceremony as an honorary grad, cap and all!
As a therapy dog, Spiffy used his winning personality and adorable face to brighten everyone's school day. Whether he's comforting someone with anxiety or making a celebrity appearance at the Mental Health Awareness Club, the good boy never fails to spread joy.
"Due to COVID, a lot of people's mental health declined,"said Ethan Filler, a recent high school graduate, via ABC News. "Especially when we came back, it was definitely a light in the hallway to see Spiffy. It was happy."
The teen added that Spiffy helped him decompress after exams. He said he made the best study buddy.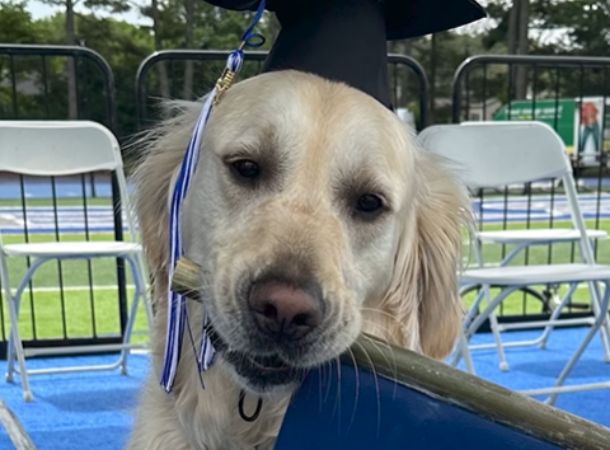 "After you took a test for an hour and a half, it's definitely nice to get just a mental breather and just relax," he said. "And even pet a dog."
Dr. Joan Mast, the superintendent of the school district, also happens to be Spiffy's owner. According to her, the golden retriever has a busy summer ahead of him after graduating. He'll be providing tail-wags and cuddles to students enrolled in the school's summer programs.
You can find the source of this story's featured image here.
Want to be happier in just 5 minutes a day? Sign up for Morning Smile and join over 455,000+ people who start each day with good news.