Simon Cowell was visibly distressed when a clown walked out onto the "America's Got Talent" stage. While the other judges gently teased him about his lack of fondness for clowns, Sofía Vergara kept the show moving. The clown, Papayaso, begins by speaking Spanish. Introducing himself and stating that he is from Chile. Sofia acts as a translator and announces that Papayaso will do impersonations.
At the beginning of the act, Papayaso starts with an unimpressive animal impersonation of an elephant. The audience and the judges' panel were speechless and stared unbelievingly. They wonder how this act made it through the initial auditions to this phase of the competition.
After the obvious flop of his opening gambit, Papayaso does a pouty puppy with similar results. Almost immediately, the clown's demeanor shifted as he crossed his arms, adopted a "tough guy" facial expression, and stated, in perfect, unaccented English: "I got one last job for you. And this time, it ain't gonna be easy." The crowd erupted in surprise, bringing on a fit of maniacal clown laughter from Papayaso.
The act continued, with Papayaso doing a near-perfect impersonation of David Attenborough discussing the Chilean clown. From there, Papayaso flipped into impersonations of Jimmy Fallon interviewing Adam Driver, flawlessly flipping between the two voices.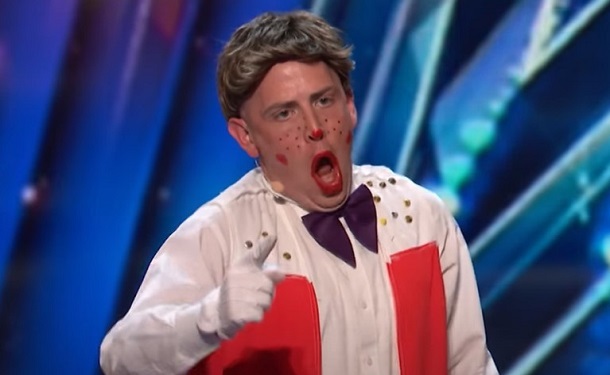 For his final impersonation, The audience receives a surprisingly accurate impersonation of Simon Cowell himself. Papayaso nailed the accent, body language, and tone of voice as he stated, "I don't mean to be rude…" Even Simon laughed uncontrollably!
Watch the hilarious performance here:
You can find the source of this story's featured image here!
Want to be happier in just 5 minutes a day? Sign up for Morning Smile and join over 455,000+ people who start each day with good news.