Travelers on a recent flight to Chicago had no idea that they were going to witness a momentous occasion. Their pilot, Jeff Fell, was about to retire, and this would be his final departure. To celebrate his 32 years with American Airlines, the pilot gave a moving retirement speech before takeoff. Luckily, passenger Justin Harrison caught the entire thing on camera, according to the New York Post.
"I normally don't stand up in front of everybody like this," Jeff began. "I usually just stay in the cockpit and talk on the PA. If I get a little emotional please forgive me for that."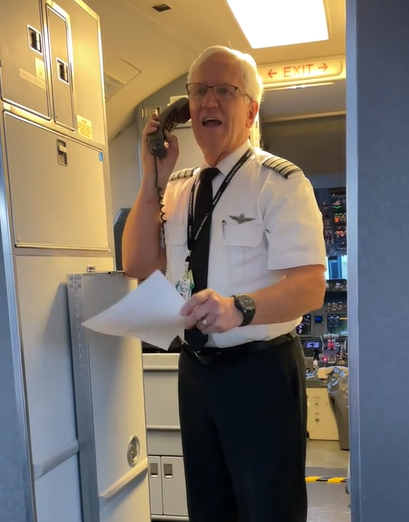 The pilot then revealed that there were some very special passengers on the plane that evening: "the majority of my family who have come along with me on my retirement flight." After thanking them, he gave a beautiful shout-out to his spouse.
"Finally for my wonderful wife Julie who has been at my side for the majority of my 32 years at American," he said. "She has been the rock, the solid rock in the foundation in our lives and our marriage. Her faith in the Lord, wisdom, strength and love has guided our marriage and family throughout these years. I love you and look forward to the next chapter in our lives."
Jeff was clearly fighting back tears throughout his emotional address, and his passengers were moved to applause several times. The pilot's retirement speech has reached over 3 million views on TikTok as of writing this!
Watch the video below to hear the retiring pilot's touching words.
Want to be happier in just 5 minutes a day? Sign up for Morning Smile and join over 455,000+ people who start each day with good news.