When Bryn Wentworth took her children to the pumpkin patch at Gordo's Fun Farm, she did not expect to get a week's worth of exercise. She expected some low-level aerobic walking, maybe some bending and light lifting. To her surprise, the attraction included a new gizmo called a "Parent-Powered Roller Coaster." And, of course, her daughters wanted to take a ride.
Being a good sport and great mom, Bryn agreed to power the roller coaster. Once the kids were seated in the car, she hopped onto the stationary bike contraption and began to pedal. As the car SLOWLY inched up the incline, Bryn pedaled her heart out. Creaking and groaning, the car slowly rose to the top of the incline. Bryn's aerobic workout served its purpose as her children laughed and careened around the track.
These coasters are even available for your own backyard. You can purchase this parental torture device exercise machine for a mere $5,000 if you want one. Shipping prices may vary, and your roller coaster may not arrive until your children are away in college. However, if you install this in your yard, you will have the most muscular legs on the block!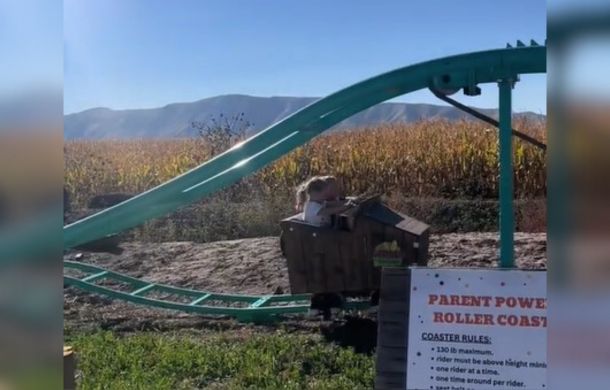 If you don't want to add this to your backyard, you can scout your local pumpkin patch to see if they have one. It is much more interactive than that tired old swingset you have!
It took Bryn 25 seconds to pedal enough to raise the car to the top. Ten seconds after she completed the workout, the ride returned to the start, and her girls were clamoring for another ride! According to the comments under the original TikTok video, they got the second ride. Wheeeeeee!
You can find the source of this story's featured image here.
Want to be happier in just 5 minutes a day? Sign up for Morning Smile and join over 455,000+ people who start each day with good news.