Weeks of trying, unsuccessfully, to befriend a cat to remove a plastic trash bag tutu stuck on the cat's hindquarters did not deter this rescuer. Instead, the resourceful cat herder resorted to letting a child complete the task. Within one hour of enlisting the help of her daughter, the cat was approaching hesitantly.
Some of us remember the early efforts to reduce plastics and cut soda bottle plastic carriers. This video brought back memories of ducks and turtles struggling in plastic handcuffs left by litterbugs. We don't know where the cat got his trash bag tutu, but it is evident that it had been around his torso for some time.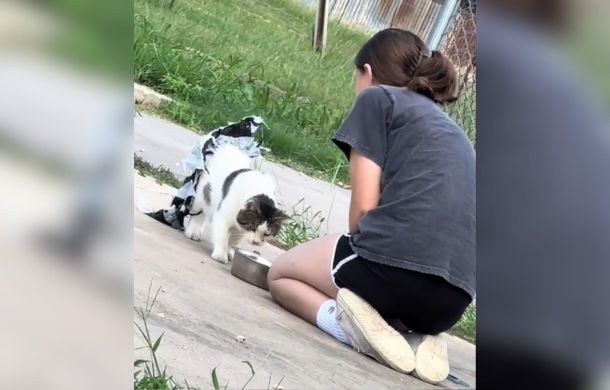 Not only did the cat approach the young girl, but he allowed her to pet him while he enjoyed some kibble! The girl moved slowly and steadily, making small movements so she wouldn't scare the kitty. As the kitty ate, she stroked with one hand while reaching for a pair of scissors with the other hand.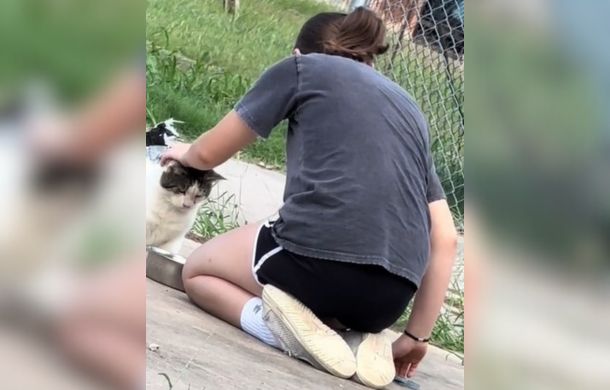 Working slowly, she let the cat see and get accustomed to the presence of the scissors. She gently tapped the scissors on the cat's back and stroked the cat. Although the cat had an initial start, he quickly settled and allowed her to continue.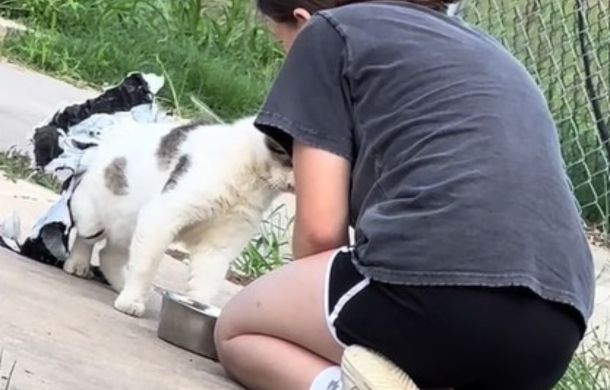 It took more coaxing and gentle touches, but the girl finally managed to cut the trash bag tutu off the cat. The cat quickly circles after the removal in a happy little "thank you" gesture. The entire scene was heartwarming.
The rescuer who posted the video said she had been working for weeks to get the cat to trust her. Within one hour, her daughter gained the cat's trust and completed the trash bag tutu removal. This cat sensed a kindred soul with a heart of gold, and he knew she was there to help.
You can find the source of this story's featured image here.
Want to be happier in just 5 minutes a day? Sign up for Morning Smile and join over 455,000+ people who start each day with good news.