Olga's home was a disaster area full of trash that accumulated over the course of many years. But this story isn't about Olga's messy house. It's about defeating the cumulative effects of depression, one clean house at a time. It's about volunteer cleaning personnel and a cleaning company that sponsors a program to help people clean their homes.
Olga suffers from depression, which is how her home got into such a state. One of the first steps in defeating depression is to break the cycle. That's where the cleaning crew comes into play.
Depression is a fairly common mental disorder impacting approximately 8% of adults throughout the world. It can cause continuing sadness and an increasing lack of interest in anything. People suffering from depression typically hibernate within their own world, ignoring what happens around them. Another effect of this debilitating condition can be disinterest in maintaining your home. This is how Olga's home got so messy.
Sini, a company that manufactures high-quality cleaning products in Europe, sponsored the complete top-to-bottom cleaning of Olga's home. The results are amazing and will help Olga overcome her depression and maintain a more normal living environment. The video posted below is narrated by Aurikatariina, a YouTuber from Finland who traveled to Sweden to help Olga! 
Sini cleaning products are not available in the US. However, it is important to support their work in cases like this. They will continue helping people conquer mental health disorders such as depression by cleaning one home at a time.
In the video, we learn the circumstances that lead to Olga's messy predicament. While sharing details about Olga's life, we watch an amazing transformation within Olga's home. Our hearts go out to this woman who has suffered from her depression alone for too long. The cleaners work through each room, discussing the beautiful flooring, furniture, and other treasures they find along the way. There is no judgment. There is no negativity. After the deep cleaning, Olga can enter her bedroom and all the areas of her house that had been inaccessible for years.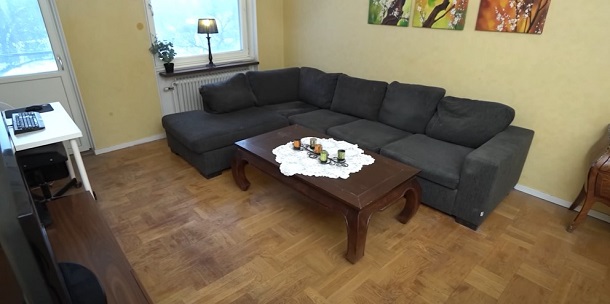 Olga's story is all too common. Having a fresh start with a clean home is a huge step as Olga begins working through the depression that consumed her. Help her celebrate this new beginning!  
If you or someone you know suffers from depression, there is help available. In the US, many cleaning companies offer similar services as Sini and Aurikatariina. You can help too by acknowledging your friend and being understanding about their situation. It doesn't take much to make a difference.
Watch the complete transformation here:
You can find the source of this story's featured image here.
Want to be happier in just 5 minutes a day? Sign up for Morning Smile and join over 455,000+ people who start each day with good news.