A rescue puppy in Virginia is finally learning the true meaning of "home sweet home."
Lauren Smith Greeno was looking for a dog to foster when she came across the Charlie's Crusaders Pet Rescue Facebook page. The minute she saw the sweet, melancholy face of a pupper named Ginnie, she knew her search was over.
"The very first picture that popped up was of Ginnie with her big, sad brown eyes. My heart just broke for her," Lauren said. "I emailed them that night and then called in the morning to tell the rescue that I was willing to foster to potentially adopt."
Ginnie survived a rough past, having been taken away from her owners due to mistreatment and negligence. When rescuers first found her, she and her littermates were tied up on short leashes outside the property, totally abandoned.
When they arrived at the shelter, Ginnie's canine companions were scooped up and adopted right away. Ginnie, on the other hand, bounced around in foster care for six months, drawing closer and closer to the top of the euthanasia list.
But once Lauren set eyes on her, the sweet dog's fate changed forever.
"I signed the foster papers on Monday, and she was in our home that Sunday," Lauren said. "I fell in love with her on the drive back from the pickup site. … We barely left the pickup site before she had jumped in my lap and started smothering me with kisses. I cried. She was so trusting and so open to being loved."
On Ginnie's second day in her new home, she got to sleep on a bed for the very first time, and she was immediately hooked! Lauren invited Ginnie to cuddle up next to her, and Ginnie happily obliged.
"Once she was comfortable, she let out the sincerest sigh of relief … with what I can only describe as a mixture of amazement and profound contentment," Lauren said. "I knew at that moment that we had to adopt her."
So they did! These days, Ginnie is getting all the love and care she deserves. Lauren helped nurse her back to health after a bout of heartworm and is supporting her recovery from emotional and psychological triggers as well.
While Ginnie still struggles to be outside alone, Lauren and her husband Jacob are helping her understand more and more that in this loving home, she will never be abandoned again.
Ginnie is also experiencing the never-ending joy that comes from playing with both her humans and her new canine siblings, Gendry, Garnet, and Gigi.
"She didn't have toys before we adopted her, so these last three months she has been discovering her love for tug toys and tennis balls," Lauren said. "She also really enjoys spending time with her siblings. … They play wrestle all the time. All in all, she's just a happy, healthy girl."
Ginnie's favorite part of her new home is the endless snuggling and affection she receives every day.
"She is a major cuddler," Lauren explained. "If I am in a chair, she always wants to sit in my lap and be held, and if I am in bed, she wants to sleep in my arms. Whenever my eyes meet hers, she always wags her tail and leans in for a hug and a kiss. She's just a big love bug."
This precious girl is finally learning what it means to be seen, loved, and spoiled by a family – and life has never been better!
We're so excited for Ginnie and so thankful for caring, generous souls like Lauren, who give selflessly to make sure sweet animals like Ginnie get a second chance in life!
"All she wanted was a family to love her, and I am happy we could be that family for her," Lauren said. "She fits right in."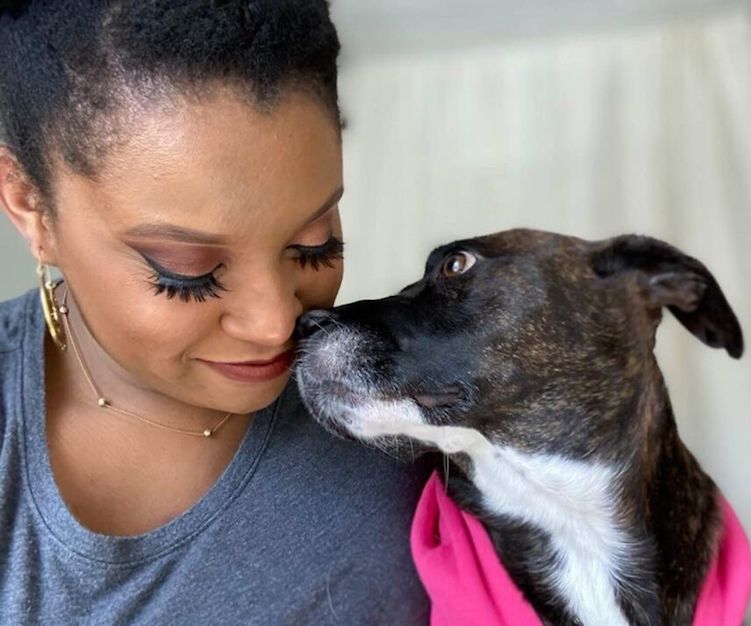 Follow the adventures of Lauren and her pups on Instagram, and share the uplifting story of Ginnie the rescue dog with a friend.
Want to be happier in just 5 minutes a day? Sign up for Morning Smile and join over 455,000+ people who start each day with good news.