When you step into the backyard of Keith Smith's Birmingham, England home, you might wonder momentarily if you've stumbled onto the grounds of a palace. Never fear; you've just encountered the fruits of this 41-year-old man's passion for lawn maintenance.
Keith comes by this passion honestly. He's a groundskeeper for nearby Edgbaston Golf Club, and when he has finished keeping the grass on the course lush and green, he comes home and devotes himself to his own postage-sized — and award-winning — back garden.
"Mowing my lawn is my passion," Keith explained. "I like keeping myself to myself, I don't drink or smoke, and my wife and kids are my world, but this keeps me fit and healthy."
The passion shows. Each spring, Keith spends hours starting his garden project from scratch. He chronicles his hard work on his Twitter page, sharing pictures of the raw dirt patch that he somehow transforms into a patterned garden you would expect to find behind a mansion, not a modest suburban home.
As it turns out, you too could have a lawn that looks this amazing. All it will take is three daily mowing sessions a day equaling approximately 273 hours of man power. Simple, right?
"I mowed the lawn two or three times a day from the beginning of June to the first week of August," Keith explained. 'This new geometric design was a pattern I found on the internet. I was struggling for a design this year, and came across this one and thought I'd give it a go."
He used chalk to outline the pattern first, then skillfully cut the grass into a complicated pattern.
Keith chooses his equipment carefully, using two $40 antique push-mowers to give him the exacting cuts require for his complicated geometric pattern. "I use the antique mowers because they are cylinder mowers and not rotary mowers. Cylinder mowers give you a scissor like cut, a rotary mower slices the grass," he said.
Love a great time lapse pic.twitter.com/CK1YO9rhKL

— Smithy (@allthingsturf) September 29, 2016
Each day he spends several hours tending to his creation, including keeping it sufficiently watered during the blazing heat wave the U.K. experienced in July. The fact that he succeeded in keeping his lawn so lush and perfect during the heat wave was particularly impressive to the judges of the lawn competitions Keith likes to enter.
Especially considering where his lawn started.
This year's creation finally earned him first place in 2018's Allett Mowers Creative Lawn Stripes Competition! This contest dedicated to finding Britain's best lawn, and this year Keith's lawn definitely fit that bill. He also won the Creative Lawn Stripes Competition for a third year in a row.
"Keith has entered three years in a row now and finally got his hands on the winning prize this year," Allet Mowers wrote on Facebook. "Keith lives in a normal housing estate, has faced the battles of this summers dry weather and uses two £30 mowers off eBay-it just shows that you don't need a huge mansion and expensive machines to have a beautiful lawn! Anyone can achieve what Keith has with a bit of hard work and A LOT of passion!"
Here are a few of his past entries.
"It's an outstanding feat to win it,"he said. "I'm over the moon. It was my labor of love throughout the summer.â€
Now that Keith has finally won the prize he coveted most: "Britain's Best Lawn," he's ready for the next challenge. He hopes to become a judge for the competition next year. We'd say he's definitely qualified!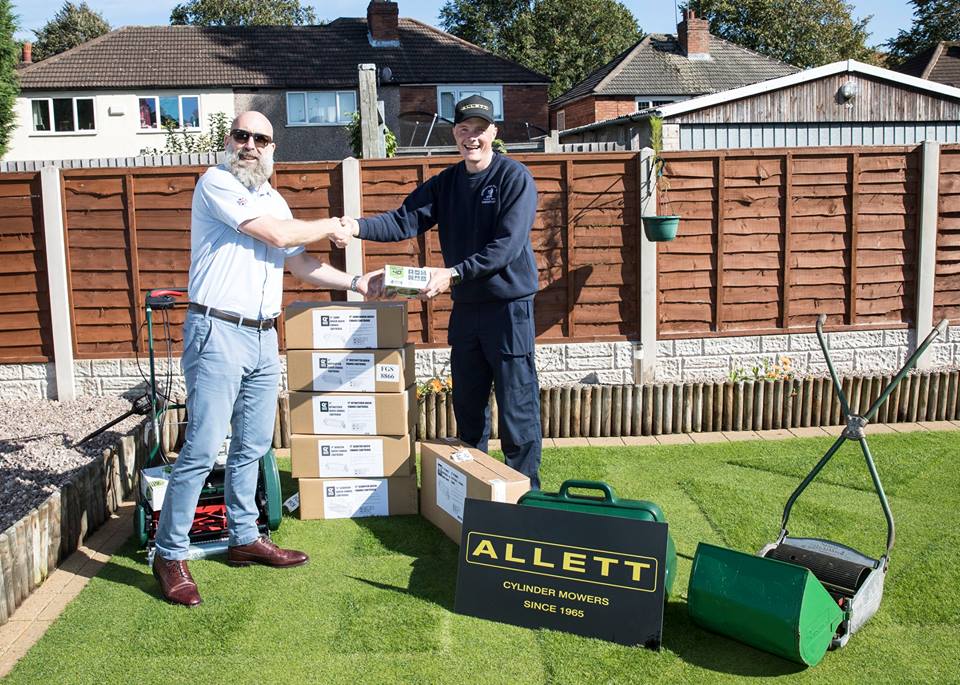 Congratulations, Keith! Way to work hard towards your goal, overcoming heat, drought, and generally nasty weather conditions along the way. You've definitely given us all a case of lawn envy!
Share this message to say "congrats!" to Keith for all his hard work!
---
Share your story & inspire the world.
If you have an uplifting story we would love to hear about it! Share it with us here.
Want to be happier in just 5 minutes a day? Sign up for Morning Smile and join over 455,000+ people who start each day with good news.