It seems that just about anytime Keanu Reeves is spotted with fans, he does something to make their day — and this time is no different. About a week ago, Reeves visited Urban Sailor Coffee, a mobile coffee shop that made a desert in Moab its home for the day. I imagine it wouldn't have taken long for Reeves to figure out that the people running the place were fans, just from talking to them, but words didn't even have to be exchanged.
Because sitting right on the coffee stand, like a sort of mascot for the establishment, sat a toy of Duke Caboom, Reeves' character from "Toy Story 4." As soon as Reeves laid eyes on the figure, he couldn't stop smiling. Naturally, he went into his character's voice and declared his well-known line, "Canada's greatest stuntman!"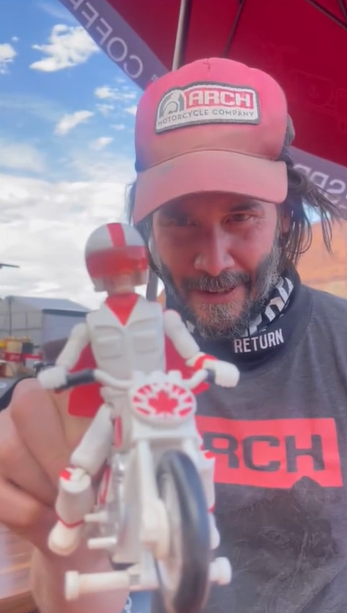 Unsurprisingly, Reeves was happy to sign the toy for these ecstatic employees. He then proceeded to play with his character's toy a bit, having him do flips like the incredible stuntman that he is known to be. I have a feeling the folks at Urban Sailor Coffee will enjoy retelling this story to future customers (and anyone else who will listen) for quite some time.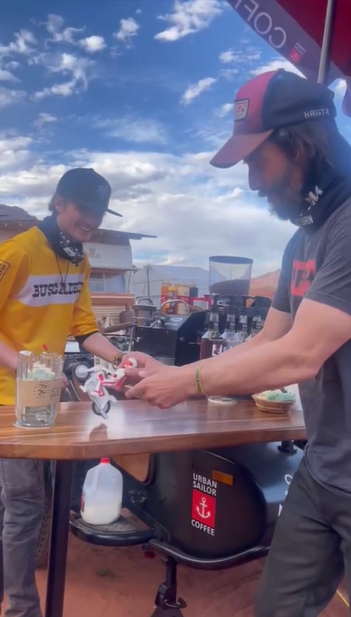 "Grateful for the unforgettable moments spent in the breathtaking landscapes of Moab alongside the one and only Keanu Reeves!" Archer, an Urban Sailor Coffee employee wrote on TikTok. "… Keanu's down-to-earth nature and love for the outdoors made this experience even more incredible! It's true when they say how down to earth Keanu is, and what a truly kind person!"
Watch Reeves make a video with Archer in the video below.
You can find the source of this story's featured image here!
Want to be happier in just 5 minutes a day? Sign up for Morning Smile and join over 455,000+ people who start each day with good news.