A Kansas City mom named Egreis Gjerjani is going viral for what might be the greatest reaction at a gender reveal party of all time. The Albania-born blogger and her husband, Jeremy, already have their hands full with "two amazing sons," ages 1 and 3, but they were recently surprised with a third pregnancy.
Egreis knew not to get too overexcited about the possibility of having a little girl, but her heart was still racing when it came time for her gender reveal party!
To make the build-up even more intense, Egreis's friends tricked her, telling her they had a bag of balloons for her to open. She thought that the color of the balloons inside would reveal the gender of her baby… but they were multicolored!
Finally, they told her that the inside of the cake would have either pink or blue filling. By the time she was ready to slice, she was already shaking.
First, Egreis patiently waits for Jeremy to put a slice of the cake in her hand…

…then she absolutely freaks out!
Even her son George's jaw dropped!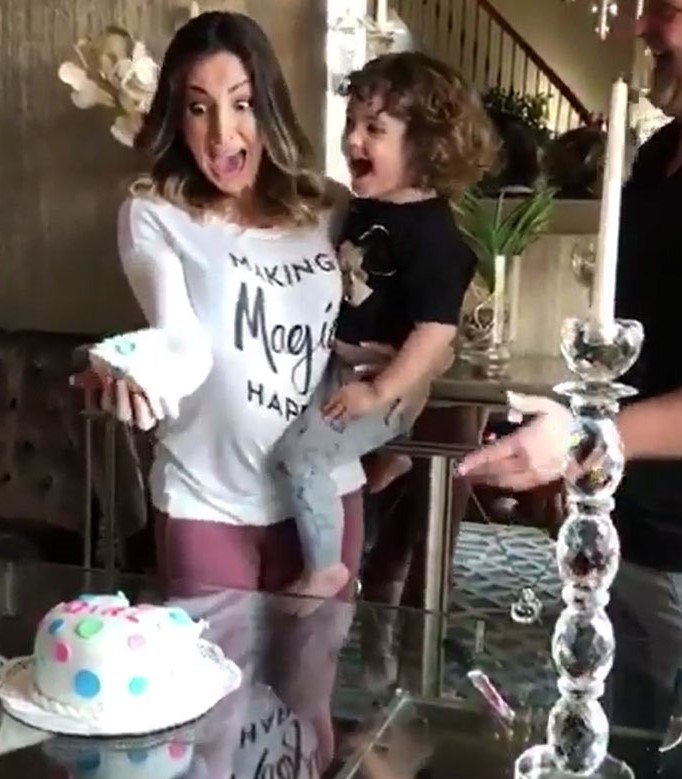 It's safe to say, the mom absolutely did not see this coming. "Since I've had two boys so far, I genuinely did not think I would have a girl," she explained. "I even started a children's couture line, Itty Bitty Toes, that specializes in handmade dresses for little girls. It was my way of experiencing what having a little girl would be like.â€
The video of her crazy reaction has been viewed over 750 thousand times on Instagram alone in just 3 days… and Egreis says the responses from strangers around the world have been overwhelming.
"So many of them have shared tears of joy with me,"she said. "That's the beauty of humanity. To be able to relate to another human being, without ever knowing them, simply because you can feel the happiness through a video.â€
But, despite the fact that she is really excited about having a daughter, Egreis said she would have been happy no matter what.
"To be able to carry a child is a blessing, she said, "That initial discovery of your child's gender is an amazing feeling. It doesn't matter if it is boy or girl, just that initial moment of knowing what you're going to have makes it all so real.â€
Share this mother's joy today!
Want to be happier in just 5 minutes a day? Sign up for Morning Smile and join over 455,000+ people who start each day with good news.