Matt Dillion loves flamingos!
No, not Matt Dillon, the actor, Matt Dillion — the duck! Matt is a white-faced whistling duck who lives at the Denver Zoo. This little duck has captured the attention of zoo staff with his love for the bright-colored flamingos who parade past his enclosure.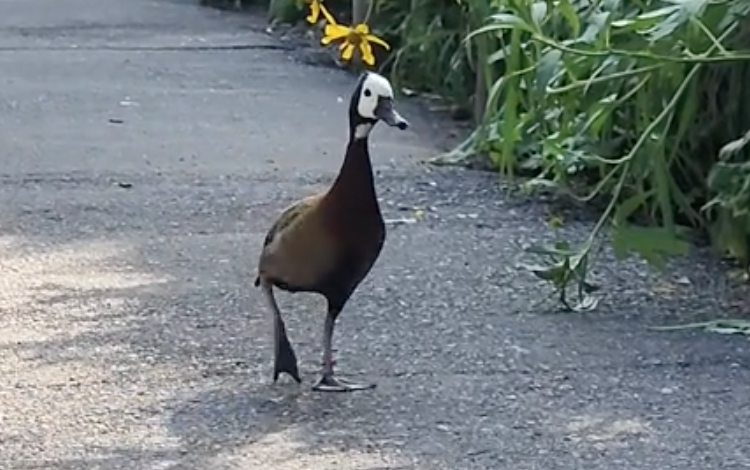 You see, the flamingos at Denver Zoo go on daily walks with their caregivers. These walks are called "enrichment walks" because they allow the flamingos to explore new places and experience new sights and sounds.
This helps keep the flamingos happy and healthy and allows visitors to get an up-close and personal view of the stunning birds as they stroll past. There's nothing quite like a flock of five-foot-tall pink birds parading past you!
During one of these enrichment walks, animal care specialists noticed that Matt took a keen interest in the passing of the flamingos. This spurred an idea… bring Matt along too!
The zoo staff allowed Matt to come out and go on enrichment walks with his new flamingo friends. Best of all, the idea was a roaring success!
The flamingos got to interact with a new friend, and Matt was welcomed with open wings into the flamingo flock for some flamingling.
You can see him strolling with his new buddies below:
Matt Dillion isn't the only one who has noticed the antics of the Denver Zoo flamingos. Joe Jonas has also taken note of these amazing birds as well.
No, this time we actually mean the Joe Jonas!
The Denver Zoo named one of their flamingos Jonas, and Joe Jonas eventually noticed this and responded! In the video, flamingo Jonas shows off his impeccable dance moves as he stomps around in his water dish.
You can catch the action below:
In addition to providing enrichment and care for the animals at their facility, Denver Zoo also participates in a number of field conservation programs. If you'd like to support these efforts you can find more information here.
You can find the source of this story's featured image here.
Want to be happier in just 5 minutes a day? Sign up for Morning Smile and join over 455,000+ people who start each day with good news.