Two years ago, Dee Mitchell tried out for the Oklahoma State basketball team and made it as a walk-on player, which means he wasn't recruited and didn't receive an athletic scholarship.
Like so many college students, he still had to find a way to pay for his tuition. So in addition to taking on a full-time course load and managing the responsibilities that come with being an athlete, Dee began working 30-hour weeks or more at Walmart.
To say Dee is extremely dedicated is an understatement. His work ethic is something his teammates and coaches have been impressed by since they first met him. In fact, they were so inspired that his coaches decided to offer him a scholarship!
Once they figured out the logistics, they came up with a plan to surprise him with the wonderful news. The whole team waited on a Zoom call as Mike Boynton, their head coach, headed to Walmart during one of Dee's shifts to make the announcement.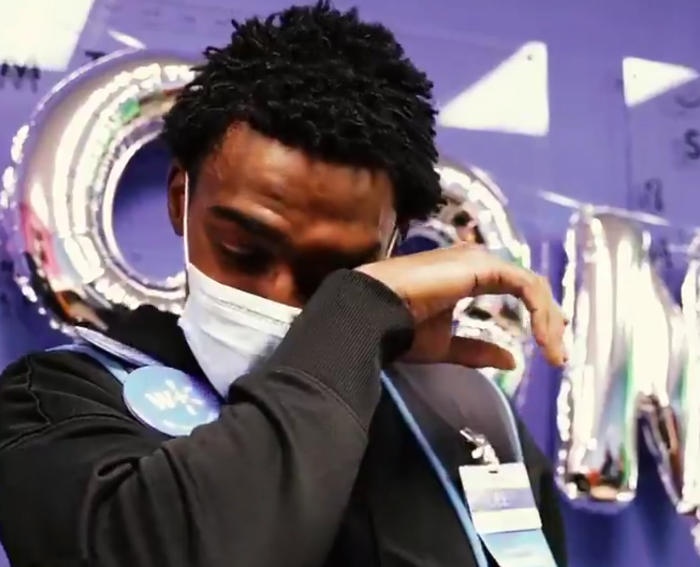 "It meant everything to my mom," Dee said later. "I didn't know what was going on. … It was breathtaking. I thought I was in a movie or something."
Any student would be thrilled to earn a scholarship, but for Dee, it's extra special because money has been tight at home since his mom's work hours were cut due to the novel coronavirus pandemic.
"It means the world," Dee added. "You know, helping out my family, taking that burden off of them with tuition and everything. I just appreciate it."
Boynton believes Dee is more than deserving of this scholarship. Plus, out of all of his players, Dee reminds him most of his own son. "This basketball thing, it's got a shelf life," Boynton said. "What Dee Mitchell has lasts forever."
Watch the incredible surprise in the video below, and be sure to share this story with your friends.
Want to be happier in just 5 minutes a day? Sign up for Morning Smile and join over 455,000+ people who start each day with good news.