Misunderstandings can happen between anyone, in any language! For this father/son duo, a few missed context clues resulted in some hilarious confusion.
When Mom signed to Dad about taking their kid, Coop, to visit some baby chicks, Coop caught a different message…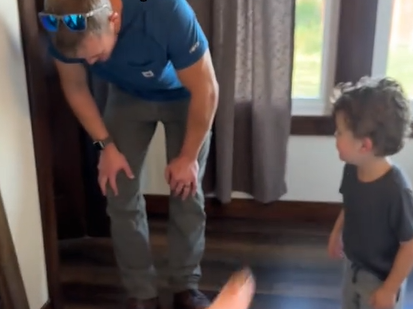 He thought Dad was having a baby!
Coop adorably started pointing at his dad's belly, thinking he was pregnant! Coop was clearly excited at the potential of having a new sibling. His father was bent over laughing at the misunderstanding!
Viewers of this hilarious clip have taken to the comments to share their amusement.
"Well, now you owe him a baby. I don't make the rules," said one fan of the clip. Did you see that tot's excited face? Make his dreams come true!
"Wow ! Congrats, Brandon! This is going to be an exciting journey," commented a sassy viewer, taking Coop's side.
Misunderstandings like these can happen all the time. They serve as a great reminder to laugh at the silliness of our daily life. And hey, I bet Coop will be excited about the baby chicks, too!
---
We need your support
We're a very small team competing against giant corporations for just a few, crucial minutes of people's attention each day–a few minutes that can be life-changing. If you believe in the importance of spreading good news into the world, please consider supporting our team today. Thank you.
Donate Now
---
The featured image for this post is from TikTok.
Want to be happier in just 5 minutes a day? Sign up for Morning Smile and join over 455,000+ people who start each day with good news.