In an amazing video posted originally on June 21, 2015, a cat was looking for a cozy place to nap. Having found her cozy hideaway, the little critter wakes up from her nap in a very surprising predicament. She was in the wing of an ultralight, open-air Skyranger airplane flying through the air!
We should mention early on that the cat was in very little danger during the flight. She was safely inside the wing and remained safe while the pilot quickly took action.
The pilot, Romain Jantot, performed a preflight check before loading his passenger for a 20-minute flight. The cat is an adopted mascot of the flight club, "6-34 ULM Club," where Romain flies. He stated during an interview that she frequently naps in the wings of planes, but this was her first known flight. His human passenger that day was also a first-time flyer. 
The cat is affectionately known as "Minou," which simply translates to "Kitty." Once Romain noticed the feline stowaway, he slowed the aircraft's speed and gently headed back to the landing strip. Once on the ground, his human passenger giggled as he removed poor Minou from the wing. They later relaunched for their intended full flight without the stowaway.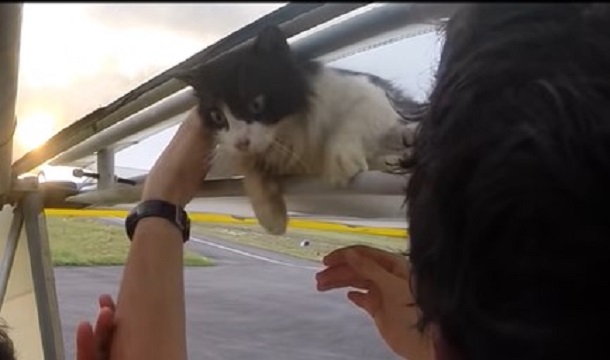 Romain emphasized that the cat was safe during the entire flight. His main concern was if she might attempt to jump from the wing into a lap. However, she held on like a champion wing-walker until the plane was safely stopped on the ground.
This will certainly be a memory that will last for both the pilot and his passengers. This incident occurred while Romain was on his way to becoming a helicopter pilot. We hope that he has completed his qualifications and is happily maneuvering the skies without incident. As for Minou? The cat may have used one of her nine lives during this adventure, but hopefully she's enjoying the remainder of those lives without mishap.
Watch the video of Minou's adventure below!
You can find the source of this story's featured image here.
Want to be happier in just 5 minutes a day? Sign up for Morning Smile and join over 455,000+ people who start each day with good news.