A humble bus driver became a hero for a day after saving a woman from jumping off a bridge in Buffalo, NY back in October of 2013.
Darnell Barton spend the morning as he would any other. He had just picked up passengers along his route when he noticed something strange going on down the road.
As he made his way over a bridge, he saw a young woman climb over the guardrail and stand, gazing down at the cars rushing by below.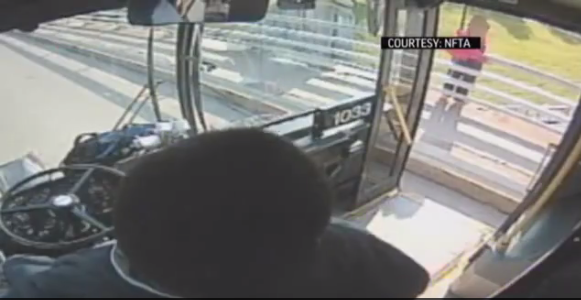 Unsure if she was in danger, Barton decided to check on her anyway.
He stopped his bus in the middle of the route and called out to the young woman. She looked up at him then back at the pavement below… with that sign, Barton knew he had to act.

He was trained as a volunteer firefighter and peacekeeper and remembered that once contact is made with someone who is possibly suicidal, it shouldn't be broken. So, he resolved to stay with her until the police arrived.
"It was an interesting situation, knowing what you know and knowing what you have to do," he said during a phone interview. " Dispatch picked up. I remember giving my location and saying, 'Send the authorities, this young lady needs help,' and then dashing the phone down."
The video below captures Barton leaning over the railing and wrapping his arms around the young woman, asking if she wanted to come back over the rail. In an unexpected turn of events, she did just that.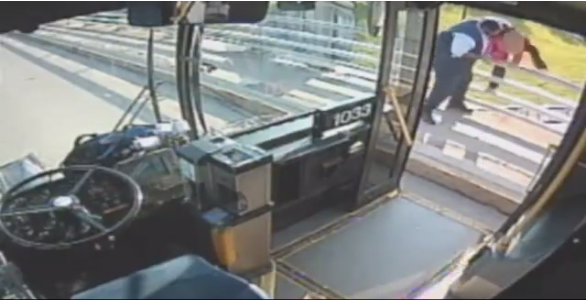 Barton gently helped her climb back over the rail and sat with her until officers arrived. He asked a few questions and learned she was a student, but could also tell there were some major things going on in her life.

"While I was holding her, listening to her questions, I just prayed," the bus driver said. "Whatever was on her mind, it had her. It really, really had her."
The officers finally arrived and Barton went on his way, but not before receiving a standing ovation from all 20 students and other passengers for his inspiring act of kindness.
Share if this selfless act helped restore your faith in humanity!
Want to be happier in just 5 minutes a day? Sign up for Morning Smile and join over 455,000+ people who start each day with good news.