They say you have to walk a mile in someone else's shoes before you truly understand their journey.
Those who have lived through a natural disaster like a hurricane can surely vouch for the truth in these words. As Hurricane Florence bore down on the coast of South Carolina, thousands of area residents were forced to evacuate.
Among them was Ashleigh Gilleland, who had started to leave a restaurant in Sarasota, Florida when she found a pleasant surprise on her windshield.
Tucked under her windshield wiper, Ashleigh discovered a handwritten note, a 5 dollar bill, and a Walmart gift card. A woman named Chelsey had written a heartfelt letter of support based solely on Ashleigh's South Carolina license plate.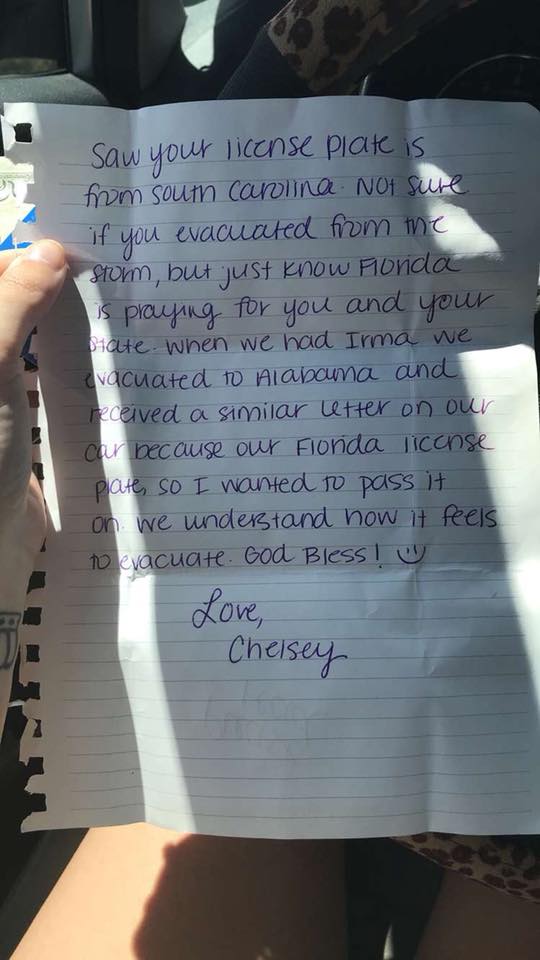 Facebook
"Saw your license plate was from South Carolina," the note read. "Not sure if you evacuated from the storm, but just know Florida is praying for you and your state. When we hard Irma we evacuated to Alabama and received a similar letter on our car because our Florida license plate, so I wanted to pass it on. I know how it feels to evacuate. God bless!"
As someone who had once been forced to evacuate a hurricane's path herself, Chelsey understood how difficult things were for this stranger and wanted to do something kind for her.
"This just made my day,"Ashleigh posted, "I'm so happy to know there are still great people in the world. Always pay it forward! Thank you Chelsey, I wish I could thank you in person. God Bless!
Ashleigh's Facebook post about Chelsey's kindness spread far and wide, and soon Ashleigh got her wish: Chelsey saw the viral post and reached out to identify herself!
The Good Samaritan turned out to be Chelsey Tokan, an elementary school teacher and mother of two from Fort Myers, Florida.
What a wonderful display of blind empathy and support for your fellow human! Nice job, Chelsey! Thanks for reminding us that true kindness comes from the heart, and paying it forward is the best way to say thank you.
Please share this story to spread the message further.
---
Share your story & inspire the world.
If you have an uplifting story we would love to hear about it! Share it with us here.
Want to be happier in just 5 minutes a day? Sign up for Morning Smile and join over 455,000+ people who start each day with good news.