Artist Jess Smith, age 23, loves stopping by her local thrift stop. When she stops into the store, she heads right to the "giant necklace rack" to sift through the jewelry.
Early in June, Jess found something she couldn't possibly skip over.
It was a "very large, neon, and translucent pendant necklace," Jess described. "I saw a signature and what seemed to be the year 1973."
For $2, the necklace was hers.
Jess took it home and utilized technology to help her figure out the story behind the piece.
"I saw a similar necklace with the artist's name, Aaronel deroy Gruber."
She dug into his work and learned that she was an artist who worked in a huge variety of mediums. In the 1960s and 70s, she honed in on plexiglass, and created a bunch of these necklace pendants. She found some valued for over a grand.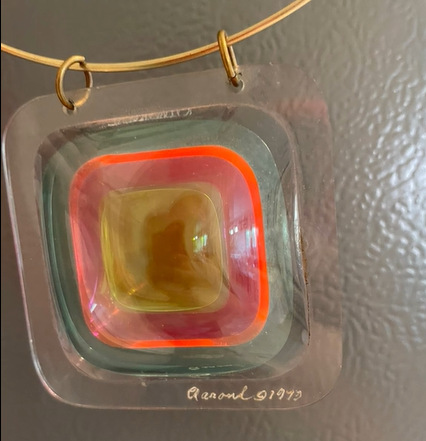 Each pendant is different, and Jess knew she had something special.
Jess hopped on Instagram and connected with the Irving and Aaronel deRoy Gruber Foundation. After a message exchange and quick phone call, the group determined Jess had a real Gruber piece.
Because of the high quality of the necklace, the value was quoted to be between $2800 and $3200.
But Jess isn't in the business of selling important works of art.
"I didn't get this to sell it," she said. "I realized it was an art piece, so I sent it on a special loan to the foundation for them to display."
Then she shared her story online. TikTok commenters endearingly pointed out its shared likeness with Tide Pods.
"Tidepod necklace 😍," one commenter admired.
Jess values sharing the work of art far more than she values taking a profit for her stroke of luck. Thanks for your contribution to the art community, Jess! Check out the piece (and the fun comments) below:
The featured image for this post is from TikTok.
Want to be happier in just 5 minutes a day? Sign up for Morning Smile and join over 455,000+ people who start each day with good news.