We've all experienced terrible service at a restaurant, whether it's our first visit or a favorite spot. Sometimes it's just one of those nights where you know you're going to have to wait for your food, your waiter is lacking that upbeat manner, or your order comes out completely wrong.
Iowa couple Makenzie and Steven Schultz were having one of those experiences, with extremely slow service and an extra long wait for food. Instead of being annoyed, frustrated, and hangry (hungry and angry) like most of us would be, the couple looked for other possible factors that could be causing the poor service. From this, they noticed the restaurant was severely understaffed. Their waiter had been tending to 12 other tables at the same time and the bar. Most would get flustered or overwhelmed, but apparently the waiter 's attitude showed no signs of annoyance, and he apologized profusely to every table for the delays.
Makenzie had a flashback to when she and her husband waited tables, remembering the ups and downs of being a server and how they often depended on tips to make an income. Diners all around them were commenting loudly about the terribly quality of the service and the restaurant itself. Knowing these customers would not likely tip the flustered waiter, the couple decided to give him a break…and generous, $100 tip with a simple note. Makenzie shared a photo of their receipt with the story of how they decided on this tip on Facebook, explaining she shared this "as a friendly reminder to think of the entire situation, before you judge. And always always always remember where you came from."
They didn't stay behind to see the waiter's reaction, but we're sure it was a light in all the chaos.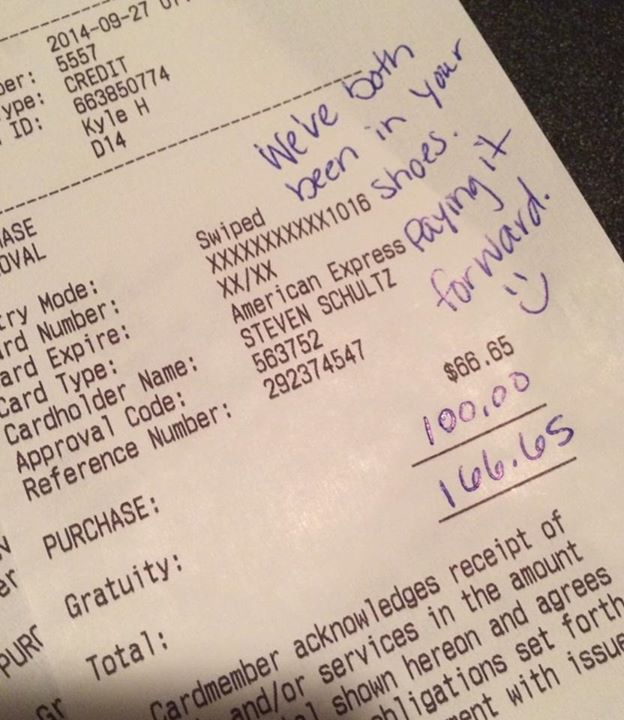 Want to be happier in just 5 minutes a day? Sign up for Morning Smile and join over 455,000+ people who start each day with good news.