Like most parents, Justice Smith works hard to teach his kids the importance of helping others.
Still, like most parents, he's bound to make mistakes every once in a while. Luckily, though, he stopped himself from making one when his son insisted that they give money to a homeless man. It's not that Justice didn't want to do it –he was feeling insecure that all they had to give was the 30 cents his 5-year-old had.
But just as he was about to tell him that they should wait until they had more money, Justice caught himself. And in doing so, this beautiful moment happened.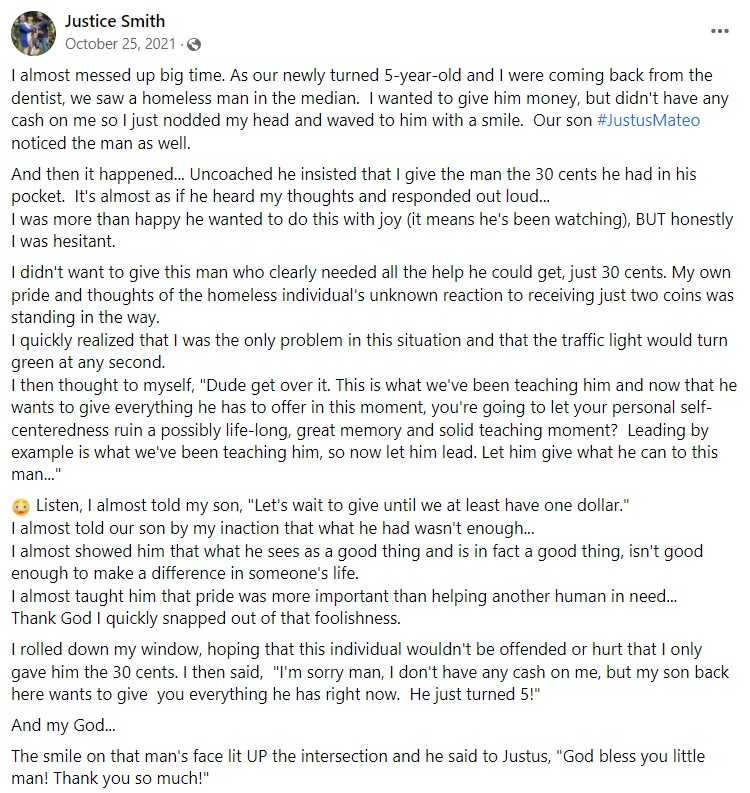 We're so proud of 5-year-old Justus Mateo for recognizing that it's always important to do what we can to help others, no matter how small our contribution may seem. With just one small act of kindness, he set in motion a ripple effect that's still going!
Don't forget to share this story to keep spreading word of Justus' kindness.
Want to be happier in just 5 minutes a day? Sign up for Morning Smile and join over 455,000+ people who start each day with good news.