We've all heard of red flags. Whether you're referring to a spouse or partner, or even a family member, you sometimes spot a "red flag" in that person's behavior. Well, if you've been on some social media platforms lately, you might have noticed a new and hilarious trend popping up… beige flags.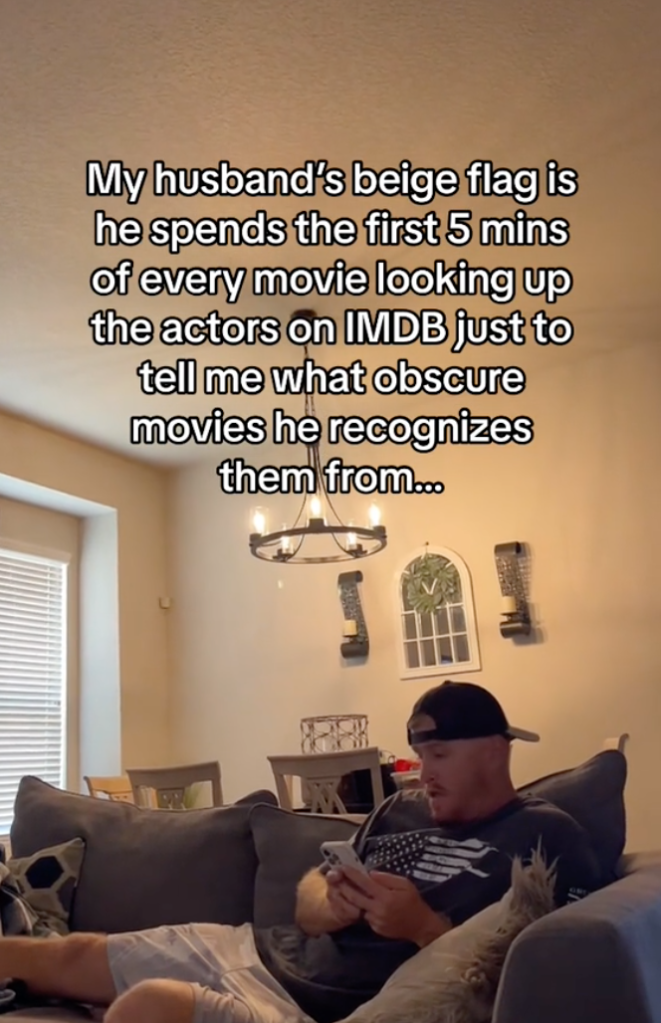 Where a red flag indicates potentially dangerous or serious problems with a relationship, a beige flag is considerably less serious and always pretty comical. It typically highlights something silly or ridiculous a partner or family member does. They're usually quite lighthearted and entertaining, much less serious than a red flag!
1. The IMBD-Obsessed Husband.
For example, in this first video the creator describes her husband's beige flag as "he spends the first 5 mins of every movie looking up the actors on IMBD just to tell me what obscure movie he recognizes them from." Harmless, but pretty darn hilarious, because we've all been around that person (or been that person).
2. The Amazing Themed Private Parties.
This next one honestly doesn't even belong in this trend, it's really just sweet and thoughtful, but still quite funny. In this video the creator describes "my bf's beige flag is that he will randomly throw me themed surprise parties but literally just for me no one else invited."
You can see the adorable themed party and more context below:
3. The Kindhearted Storyteller.
This one is another example so sweet it might bring a tear to your eye. The creator describes her boyfriend's beige flag is that "every time my mom asks him what he did today (about 20x because she has alzheimer's) he'll make up a different elaborate story and she loves it."
You can see what today's adventurous story was below:
4. The Forever-Ailed Fiance. 
Our final video is liable to get a chuckle because just about all of us can relate to it in some way. The creator details his fiance's beige flag as follows, "She is never at 100% health. She's either got a slight headache, is kind of tired, has a little tickle in her throat, feels a bit nauseous or has some random pain somewhere on her body for no apparent reason." Girl same. I had to make sure this post wasn't about me it describes me so perfectly!
Hopefully, these silly beige flags brightened your day! They certainly gave me a few hearty laughs and even a few happy tears.
You can find the source of this story's featured image here and here.
Want to be happier in just 5 minutes a day? Sign up for Morning Smile and join over 455,000+ people who start each day with good news.