Teenagers often get a bad rap. They're sometimes moody and temperamental, slow to follow directions, and full of changing hormones as they enter puberty. But occasionally, a teenager jumps up and says, "Hey, we're not all bad!" That is just what happened when a young man named Simon saved the day for Dianne Bonfiglio.
The scene was a boat dock at Sunapee Lake in Sunapee, New Hampshire. Dianne was on the dock with family members, using her cell phone, when an unfortunate thing happened. She dropped her phone into the water where it quickly sank to the bottom.
Enter Simon. He was enjoying the sunny day on a pontoon boat nearby with a group of young people. On seeing the distress caused by the lost phone, Simon immediately leaped into action. Using a set of swim goggles donated by Rhonda at Harborside Trading, the rescue was afoot.
Simon dove into 15 feet of water, making his way to the bottom. He was able to retrieve the phone on his first dive and return it to Dianne. The results of the phone rescue were caught on video (posted below) by another bystander. The crowd erupted in cheers when Simon held up the phone for Dianne.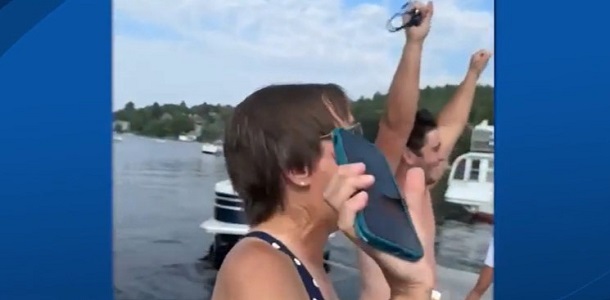 Miraculously, after checking, Dianne realized the phone still worked! More cheers erupted from the people on the dock. The video was posted to Facebook by the Sunapee Police Department. In their post, the lawmen dubbed Simon with his new nickname, "Saint Simon." We're pretty sure that one is going to stick! Hugs and high-fives were in ample supply.
Watch the video below:
You can find the source of this story's featured image here.
Want to be happier in just 5 minutes a day? Sign up for Morning Smile and join over 455,000+ people who start each day with good news.