The world is full of all kinds of beautiful flowers, but did you know there are more than 60,000 species of trees?
That's a lot of plants! Yet it feels as though these unique, valuable parts of nature aren't given the attention they deserve. From stunningly gorgeous to indescribably weird, we've gathered some of the coolest trees from around the globe for you to admire below.
1. Rainbow eucalyptus.
These brilliant eucalyptus trees can only be found in the Northern Hemisphere. They shed bark at different times throughout the year, and when they do, stunning rainbow colors appear.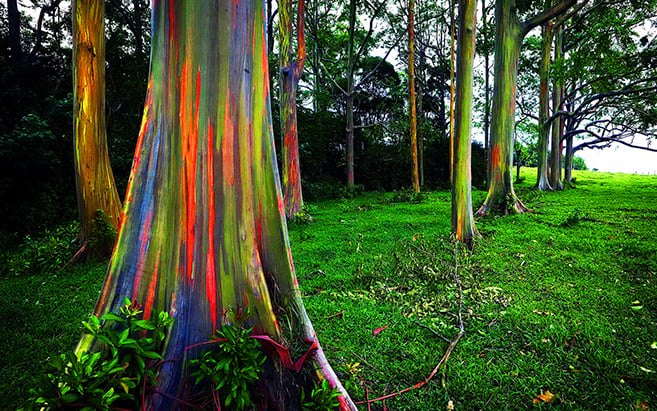 2. Japanese maple in Portland, Oregon.
This incredibly photogenic tree is located in the Portland Japanese Garden. It's considered to be the most authentic Japanese garden outside of Japan.
3. Dragon blood trees at Socotra Island, Yemen.
Found only in one of the most remote spots on earth, this umbrella-like tree has red sap that has been used as dye, violin varnish, and a folk remedy for a variety of ailments.
4. Third largest sequoia tree in California.
Named "The President," this massive tree in Sequoia National Park is 241 feet tall and has a circumference of 93 feet.
5. Le Chêne Chapelle in France.
This 800-year-old tree had its trunk hollowed out and turned into two chapels in 1669 – and they're still being used! To enter, you must climb a spiral staircase located inside the tree.
6. Huge cypress tree in Mexico.
Standing at a whopping 119 feet in circumference, this beloved tree draws admirers from all around. The highway was even rerouted in order to protect it!
7. Japanese wisteria.
These large, colorful trees brighten up their surroundings – just watch out if you're planting anything nearby. They tend to not leave much space for other plants to grow.
8. Slope point trees in New Zealand.
Located directly in line with intense Antarctic winds, these determined trees have found a way to survive… by growing at an angle!
9. Boojum tree.
Native to Baja California, this bizarre tree can resemble a shrub. Fittingly, it was named after Lewis Carroll's nonsense poem "The Hunting of the Snark."
10. The Crooked Forest in Poland.
No one knows why these pine trees have grown into a C shape, but one guess is that the villagers who planted them in 1930 molded them that way to build furniture or ships.
11. Coastal redwoods in Northern California.
These massive trees are the tallest ones on the planet! They contain entire ecosystems, giving homes to birds, insects, salamanders, and mammals.
12. Baobab trees.
Found in naturally dry climates like parts of Africa and Australia, they are known as the tree of life. They earned this name by providing shelter, food, and water to both animals and humans. The leaves alone are incredibly useful – they're edible, full of vitamin C, and are even medicinal.
13. Humongous rhododendron in the Pacific Northwest.
Although it's technically not a tree, this 125-year-old rhododendron shrub looks like one from its massive size.
14. El Ãrbol de la Sabina in Spain.
With a name meaning "juniper tree" in Spanish, this severely bent tree found a way to survive the strong winds that fight against it.
Isn't nature amazing? It's easy to get used to the beauty that surrounds us, which is why we really do need to stop and smell the roses – or in this case, stop and hug a tree!
Don't forget to share this article with a nature lover.
Want to be happier in just 5 minutes a day? Sign up for Morning Smile and join over 455,000+ people who start each day with good news.