Few stories are more heartwarming than a lost pet being returned home — this holds true no matter the species!
In a wonderful tale of determination and resilience, a lost tortoise in Ascension Parish recently embarked on an incredible journey that captivated the community. This beloved African tortoise, affectionately named Biscuit, escaped from their home and found themselves in distress near the New River Canal.
Thanks to the quick response and dedication of local authorities and animal control officers, Biscuit's story has a happy ending.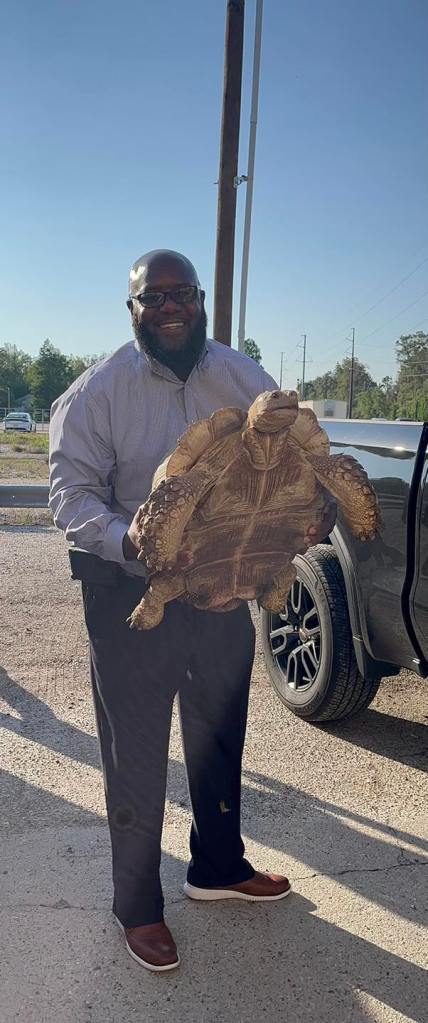 Biscuit's big adventure started after a particularly strong rainstorm. Lamoine Howard, Biscuit's owner, noticed that the storm had damaged the backyard gate. He briefly considered an immediate repair to the gate, but decided to postpone the fix until the weekend.
"It's happened before with rainstorms," Lamoine commented. "And he never gets out. He just doesn't go anywhere, right? Sure enough, he got out."
With the gate cracked open slightly, the 80-lb tortoise bulldozed his way through and ventured out into the unknown.
Sheriff's deputies spotted Biscuit in distress along the New River Canal and promptly alerted the parish animal control team. Animal control officers Curt Trepagnier and Isreal Millet sprang into action, wading through the canal's waters to reach the stranded tortoise.
"We don't normally do these things." Ascension animal control director Megan Choate said. "Normally we stick with cats and dogs, but he needed to get out that canal and our team got him out."
Ascension Parish government officials and Cara's House, the local animal shelter, posted pictures of the lost tortoise on social media, hoping to find its owner. Upon seeing the posts, a co-worker contacted Lamoine, who quickly recognized his beloved pet.
With Biscuit safely back with his family, the incredible journey of the lost tortoise came to a heartwarming conclusion. The quick response and collaboration between law enforcement, animal control officers, and the local community showcased the power of unity and compassion.
Biscuit's escapade also serves as an important reminder to always make sure your pets — large and small, have a safe and secure place to stay while you're away!
In a world full of uncertainties, the story of Biscuit, the lost tortoise, serves as an inspiration. It reminds us of the importance of community and the profound connection we share with our animal companions.
You can find the source of this story's featured image here.
Want to be happier in just 5 minutes a day? Sign up for Morning Smile and join over 455,000+ people who start each day with good news.