6 students from University of Detroit Jesuit High School have come up with a unique way to honor our nation's fallen heroes: serving as pallbearers in unclaimed veterans' funeral services.
The idea originally belonged to high school Senior, Joshua Gonzales. It started off as a way to give dignity to Detroit's homeless population– the boys planned to volunteer at funerals for homeless individuals– but, as more students gained interest, the job became more specific; the students decided to become pallbearers for homeless veterans whose bodies went unclaimed.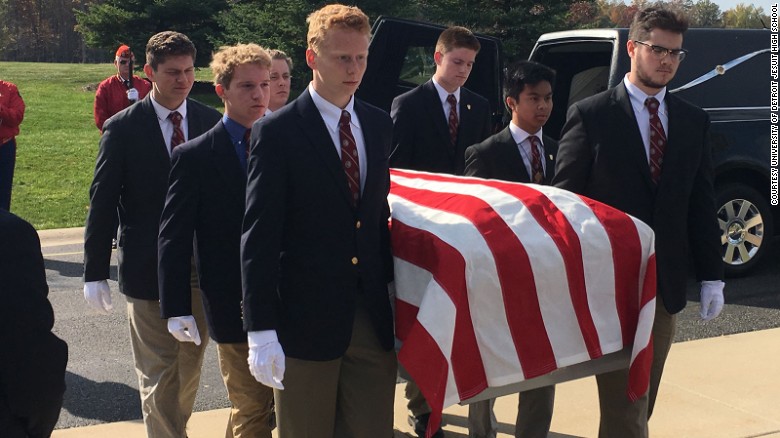 CNN
6 boys served as pallbearers for 3 veterans. The boys inspired their classmates, and now a total of 50 boys have been trained to continue serving this need.
"This was an opportunity to give something to somebody who finished their life on the fringe of society," said high school Senior, Tom Lennon. "These veterans were men I have never met, but they helped make the country I live in safer and stronger. No matter who they were or what they did on earth, every person deserves a proper burial."
The thoughtfulness of these young men is simply incredible. What a gesture of love and respect to those who have served this country.
Share these students' act of kindness today!
Want to be happier in just 5 minutes a day? Sign up for Morning Smile and join over 455,000+ people who start each day with good news.