You don't have to be a parent to know that, as soon as you have a little one in your home, your entire world changes. For many new parents, thoughts of having a second kid couldn't be further from their minds… then there are folks who have Irish twins. This term refers to siblings who couldn't be closer in age unless they were actual twins — that's an age gape of about 12 months or less. When Jillian James discovered that she would be having Irish twins, she couldn't wait to tell her Mom.
As someone who is an Irish twin herself, Jillian knew that her own Mom would be excited for her. But she also realized that her Mom knew first hand the struggles of taking care of two little ones who are so close in age. That's why Jillian knew she had to capture her reaction to the news on camera.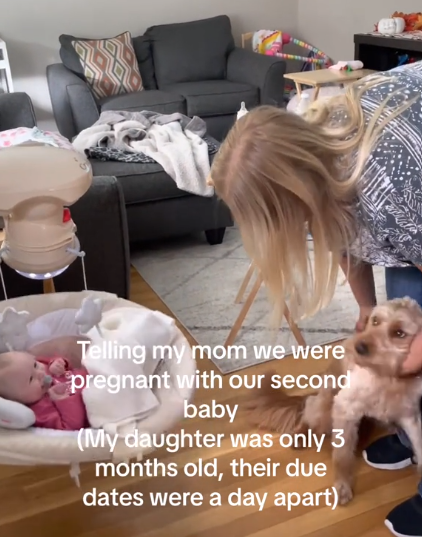 The video starts with Nana chatting with Jillian's baby about the show she was watching. Jillian had hoped she would catch on to the message on her baby's shirt but, when she didn't, she asked that she read it. While the exact message isn't revealed, it's safe to assume that it said something that indicated Jillian was pregnant again, like "Big Sister."
As soon as she did, Nana looked up at Jillian, eyes wide, asking, "Wait, are you serious?"
Then, in a moment of being overwhelmed by the news, Nana collapses back onto the couch she was (thankfully) resting on. While the fall seemed mainly intentional, I have a feeling this reaction wasn't entirely in her control, either!
"My favorite memory," Jillian wrote on TikTok. "Me and my brother are Irish twins, so my mom was so excited, but also terrified for me."
Watch this shocked Nana react to her daughter's clever Irish twin reveal in the video below.
You can find the source of this story's featured image here!
Want to be happier in just 5 minutes a day? Sign up for Morning Smile and join over 455,000+ people who start each day with good news.