When kids have a jammie day at home, they use their imaginations to play and have fun. Sometimes, that involves playing a prank on their unsuspecting Dad. Today, with Mom's help, these boys have an elaborate plan to get Dad as soon as he walks in the door. A pyramid of red Solo cups, stacked to about six feet tall! The slightest movement will unleash a cascade of falling plastic cups.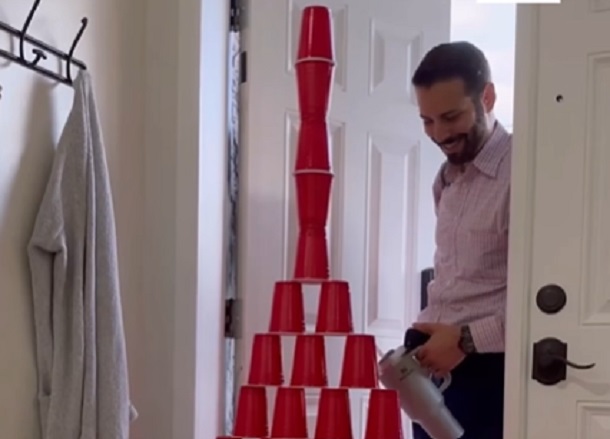 While the kids were upstairs, Dad opened the door, almost ruining the prank. He was EARLY! Mom stops him and asks him to go back outside while she calls the boys down to hide for his entrance. He laughs a bit but complies. Closing the door quietly, he waits outside while Mom gets the boys into their hiding spots. When Dad opens the door again, his look of surprise is spot on.
Not only did Dad pretend to be surprised, he barreled into the pyramid of cups in a spectacular fake fall that sent everything flying. This brought the boys out screaming, jumping, and laughing. The result of this almost-spoiled prank could not have been better! We call that a parenting win!
You can find the source of this story's featured image here.
Want to be happier in just 5 minutes a day? Sign up for Morning Smile and join over 455,000+ people who start each day with good news.