Most sports fans are going to remember what it was like seeing a game in person for the first time, but the special experience that little George had is an especially rare one. It all started when he and his family excitedly made their way to cheer on the Detroit Red Wings — or as the 4-year-old called them, "the red team." In hopes of getting George on the jumbotron, his parents helped make a sign for him that read, "It's my first game."
Between this sign and George's adorable face, the crowd fell in love with him as soon as he was shown on the big screen. So much so, in fact, that as soon as the screen displayed someone else, the crowd booed, prompting them to go back to George. This went on a few times, and with each turn, the crowd only got louder and louder.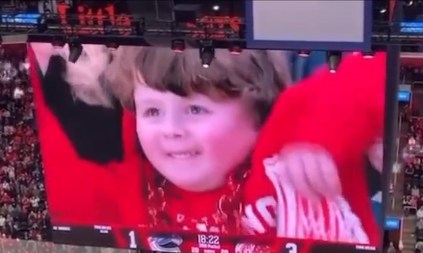 According to his mom, Chelsea Miller, shy little George didn't quite understand that all of the cheering was for him, though, after his big debut on the jumbotron, lots of fans introduced themselves.
"There were probably at least 100 people that asked to take pictures with him and high fives and, 'Can I get an autograph?' even," Chelsea recalled. "Everyone just made it so special for us."
Watch the adorable George get the love and attention he deserves with the help of his "It's my first game" sign in the video below.
You can find the source of this story's featured image here!

Want to be happier in just 5 minutes a day? Sign up for Morning Smile and join over 455,000+ people who start each day with good news.