It seems like every cartoon has the banana peel prank in it. The rambunctious character places a banana peel on the floor, and the poor, unsuspecting character falls to his bottom.
This kid put the banana peel prank to the test and, surprisingly enough… the cartoons were right!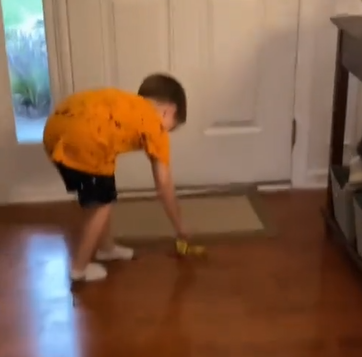 Watching from the corner, this naughty five-year-old stood hidden as his father came in from work. While it looked like the father acknowledged the peel, he stepped on it and down he went!
"He saw it. Was being a good dad with a great sense of humor,'" commented one of the hundreds of thousands of viewers who noticed that it may not have been such a surprise.
Fathers have to embarrass themselves for their kids all the time. Sometimes, that means taking a tumble!
"Dad supporting the prank! Love to see it," said another fan.
Definitely don't try this at home, as you could really hurt one of your friends or family members. But he was a good sport, for sure! We suspect this kiddo's mother had no idea that it would actually work!
---
Support Our Small Team
As a reader-funded media company, our team needs your support to continue spreading hope & positivity in a time we need it most. If you believe in this mission, please consider showing your support today. Thank you.
Support Us
---
The featured image for this post is from TikTok.
Want to be happier in just 5 minutes a day? Sign up for Morning Smile and join over 455,000+ people who start each day with good news.