ChadMichael Morrisette recently received an incredible apology out of the blue – it was 20 years after the fact – from a man he knew in junior high.
As a child Morrisette was severely bullied. Currently residing in West Hollywood as a brand consultant, he grew up in a small town in Alaska.  He was tormented relentlessly as a kid. "The entire football team bullied me," he said. "It wasn't one guy, it was six or seven guys who would follow me in the hallways, harassing me, insulting me, threatening my life."  He left home at age 15.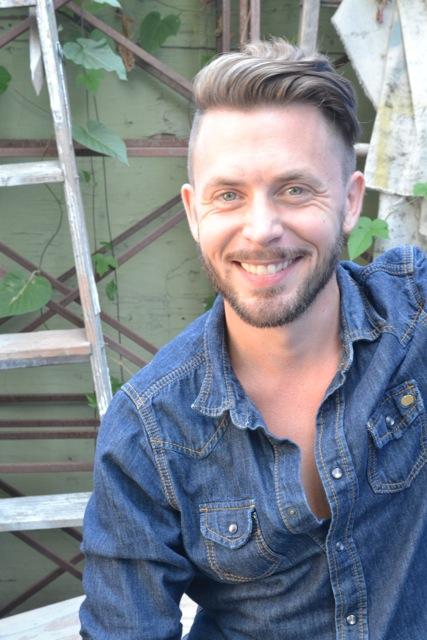 He was shocked to wake up this month to a text from Louie Amundson.  Amundson was one of the tormentors who followed Morrisette around school, threatening him.  Twenty years later, after a conversation with his daughter, he realized it was time to apologize and make amends.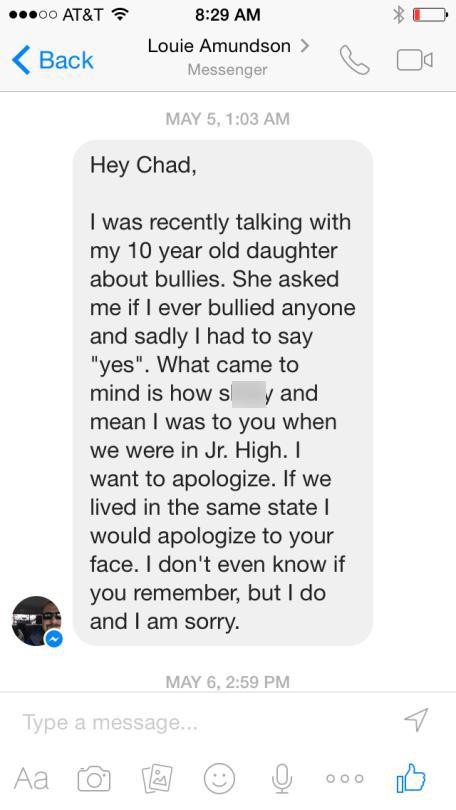 Amundson had to make it right with Morrisette. He said, "You can't change your past, but you do still own it. I can't take back the names I called him, and the threats I made toward him, but I can apologize. It doesn't excuse my behavior as a child in any way, but as an adult it's the best I can do to try to make it up to him."
After receiving the note, Morrisette said it took a day or two for the message to sink in. Ultimately, it healed a deep scar he had almost forgotten. "It unlocked something in me I didn't realize I'd been holding onto. I cried a little bit. It was so moving.â€
Soon, Morrisette responded.
Amundson was incredibly relieved to hear from Morrisette and quickly replied: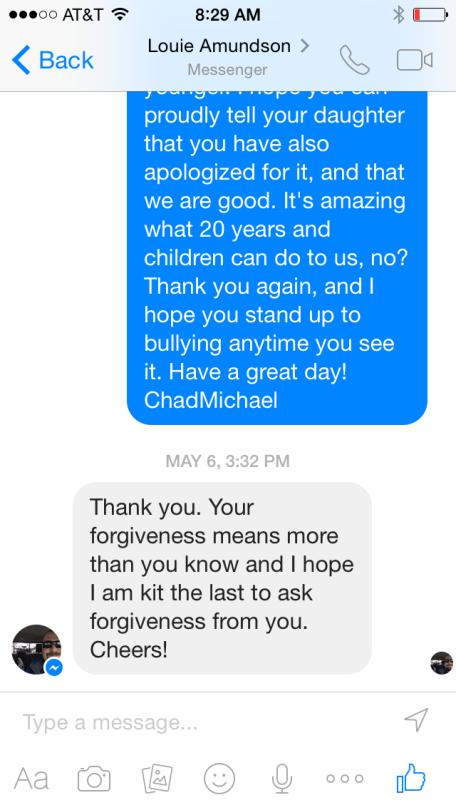 One of the most heartwarming aspects of this story is that the apology was catalyzed by Amundson's daughter. "(She and her friends) were working on a skit about bullying, so she was asking several different questions about why kids bully, what to do if you're bullied – then she asked if I was ever bullied, and I said yes," he said. "She then asked if I had ever bullied anyone else, and I had to think about it for a minute and that's the first time I had thought about it in 20-plus years, so I answered honestly and said yes."
Both Amundson and Morrisette hope the conversation will inspire parents to battle bullying and help kids to understand the repercussions of being mean to others.
Upon reflecting on the conversation, Amundson admits it was a very emotionally rewarding experience for him.  He said, "(I was) humbled and ashamed and relieved all at once. I owed him that apology, he did not owe me his forgiveness. The fact that he was able to forgive me showed that I may have been the bigger kid, but he is the bigger man. I really didn't expect him to respond at all, and figured if he did it would be telling me where to stick the apology, kind of like 'too little too late.'"
This conversation boldly demonstrates the power of an apology. As an application, you could ask yourself, "Who can I apologize to?" It is never too late to experience the healing of a restored relationship.
Share today to fight bullying and spread the message of this incredible gesture.
Want to be happier in just 5 minutes a day? Sign up for Morning Smile and join over 455,000+ people who start each day with good news.