Isaiah Webb has made his beard in to an online sensation with Incredibeard. Channeling the love he has for his facial hair, Webb is constantly designing quirky, themed, and incredibly impressive works of "art" on his face. He has followers on Facebook, Instagram and Twitter.
But his fancy facial creations aren't just for fun, Webb is using his success for a philanthropic purposes, too. His website, Incredibeard.com, is an online clothing store which has a dedicated a percentage of its profits to World Vision, a non-profit focused on providing clean, accessible water to children worldwide.
He pretty much has a different "style" prepared for every holiday and special occasion…and then some.
1. Bearded Bow Tie
It's casual and says, "I'm fancy… but it's all natural."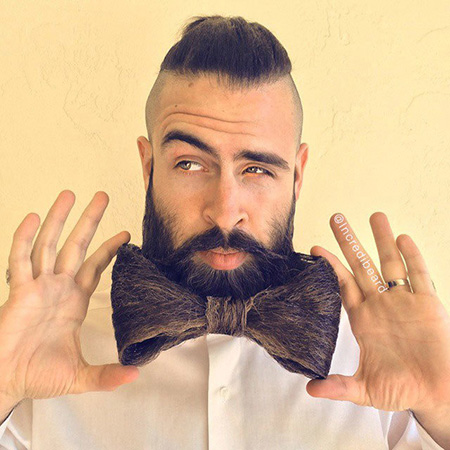 Want to be happier in just 5 minutes a day? Sign up for Morning Smile and join over 455,000+ people who start each day with good news.