Few television shows have a fan base as devoted as "The Office." It's been years since the workplace sitcom aired its final episode, but the jokes, memes, and memories of our favorite group of Scranton paper company employees remain fresh in our mind.
Sarah Elaine Gasperik and Chris Gasperik of Charleston, South Carolina are true-blue fans of the show, as evidenced by their engagement photo from a few years ago.
Yup, Sarah and Chris managed to work in Michael Scoot's classic "that's what she said" joke into their wedding engagement announcement!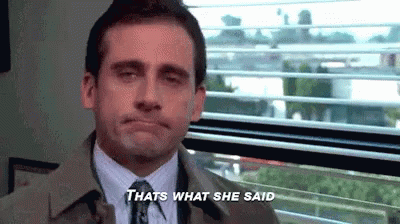 Since Sarah is a photographer by trade, she was keen to find a way to express her family's sense of humor while imparting the news of her first daughter.
"This is our third, and we just found out it was a girl, so I was especially excited to announce it in a really fun way," Sarah explained. "[But] I went on Pinterest and didn't see anything I liked."
Since Pinterest failed them, Sarah and Chris decided to come full-circle from their engagement announcement and mine their favorite sitcom for more inspiration.
"With the others, we had really fun announcements but nothing crazy like this. But I had this idea because we love 'The Office.' We watch it all the time."
Using their extensive knowledge of the show, Chris and Sarah came up with a unique idea that will have all "Office" fans giggling. First, Sarah had two custom tee shirts made for their two sons, Lucas, 3, and Kai, 17 months, along with a custom onesie for the new baby.
You might recall that the character of boss Michael Scott, played to perfection by Steve Carrell, was the "Regional Manager" of Dunder Mifflin Paper Company. Dwight was his strange second-in-command, with the fake title of "Assistant to the Regional Manager."
Oh and that sign advertising that the position is being filled A.S.A.P. as possible? That's not an accident either. Michael Scott once used that exact expression in an episode because he clearly doesn't understand that the "A.P" already means "as possible." Classic Michael!
Michael's iconic "World's Best Boss" mug, (which we all know he bought for himself), also got a nod in the form of Chris's custom tee shirt.
When it came to designing Sarah's shirt, the pair turned to another episode of the show when Oscar determined that Michael was spending too much of his hard-earned cash on magic kits and bass fishing equipment. Michael, fearing he was totally broke and not understanding how finances actually work, burst from his office and shouted, "I declare bankruptcy!'
Hilarious, right? Naturally, Sarah decided to go with this theme for her shirt.
"Then I came up with my husband's shirt. I almost didn't do the 'I declare pregnancy' shirt, but my friend loved it," says Sarah to Bustle.
Once they had settled on their theme, Sarah arranged a photo shoot for the family. Dealing with two little boys required some jelly bean bribes that all moms have resorted to at some point in time, but somehow she managed to get this incredible shot of the foursome:
Adorable! Whether you're a fan of the show or not, there's no denying that the Gasperik family totally nailed this pregnancy announcement. Way to go, guys.
We always love a creative pregnancy announcement, but this one just might be our favorite one ever.
Please share this story with someone who loves "The Office!"
---
Share your story & inspire the world.
If you have an uplifting story we would love to hear about it! Share it with us here.