A Michigan public safety officer has won our vote for employee of the year. Officer Ben Hall recently pulled over Lexi DeLorenzo for a traffic violation, but he was more surprised by what he saw inside her car.
There was a little girl sitting in the back, and while she had on her seat belt, she didn't have a car seat. The mother told the officer she knew how important it was to have a car seat for the safety of her child, but unfortunately she couldn't afford to get one.
Officer Hall was so touched by her story that he had the family pull into the nearest Walmart and proceeded to buy them a brand new carseat out of his own pocket.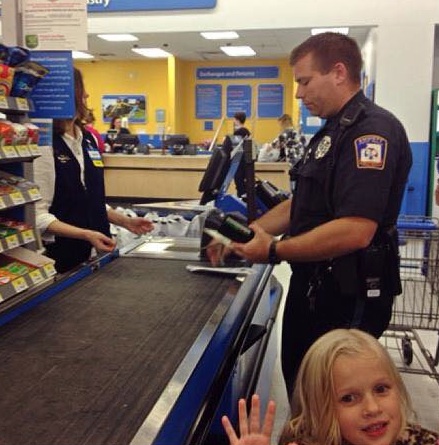 Awesome on so many levels! The mother said in a Facebook post that she recently hit a financial struggle, causing her to lose her car and carseats. In this situation, a complete stranger helped out a family in need, putting their safety above writing them a ticket — which they probably wouldn't have been able to pay. Officer Hall knows the true definition of "protect and serve."
Want to be happier in just 5 minutes a day? Sign up for Morning Smile and join over 455,000+ people who start each day with good news.