When amateur photographer Adrienne Tully made her way to the coast of a beach in Belmar, New Jersey, she planned on taking photos of the sunrise. Instead, she was able to capture a harrowing journey that got a happy ending. It all started last Sunday morning when she noticed a crowd forming on the beach. Naturally, she joined them in hopes of learning what was going on.
For a minute, Adrienne wasn't quite sure what it was that everyone was looking at. From how far away they were, it almost seemed like a bird. Looking closer, however, it was clearly a deer who was stuck on a jetty in the middle of the ocean.
"He was swimming through the ocean and then he decided a couple of times to climb on the jetty and then he went back in the water, and we were a little worried," Adrienne recalled.
After some struggle, the deer was still stuck in the water. Then, like a scene from a movie, someone heroically swooped in just in time.
"There was a nice surfer, I don't know his name, but he eventually tried to guide the deer out," she said. "The deer came out and then just ran north on the beach, you know, far away from any people and I'm sure he's fine."
Those watching nearby were no doubt amazed at the way this nameless surfer swooped in to help. But just as he appeared out of nowhere, he disappeared just the same, leaving folks to hope he knows that he is greatly appreciated for what he did.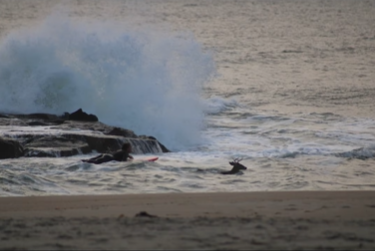 "Whoever that surfer was, it was good on him to actually save it from drowning in the ocean because yesterday it was pretty turbulent in the water," Philip Nelan, another surfer on the scene said.
You can find the source of this story's featured image here!
Want to be happier in just 5 minutes a day? Sign up for Morning Smile and join over 455,000+ people who start each day with good news.