Everyone snickered when Susan Boyle stepped out on stage for her audition on "Britain's Got Talent" back in 2009, thinking, "Oh, this'll be good." Remember how she turned the tables, stunning the world with her rendition of "I Dreamed A Dream"?
So keep that in mind when young Constanca Sousa e Melo steps out on stage in the video below. She was just 11-years-old when she auditioned on "Portugal's Got Talent," and you'd think she'd choose something more age-appropriate than a song from one of the most popular musicals in recent history.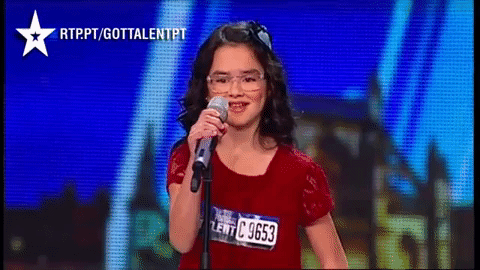 Giphy
This girl's got guts to spare, though she was visibly nervous as she stood onstage speaking with the judges. She's already cute as a button, but how adorable is this?!
She's impressive for sure, right from the first note. But she seals her fate, in the best way possible, near the end of the song, when she musters up all her energy for that high note!
And the response couldn't be stronger. You can't hear what the one judge is saying below, but it has to be something along the lines of, "Which one of us is hitting the golden buzzer?"
Meanwhile, members of the audience leap to their feet in a mass show of approval for this young rising star… obviously, no one ever expected that such a powerful voice could be contained in  that little body?!
Well, Judge Sofia Escobar did hit the golden buzzer and Constanca advanced to the next level that season, though she did not make the finals. But, wow, what an accomplishment for someone who was just 12-years-old at the time!
On the show's bio page, she stated that her goal was "for everyone to appreciate my voice and my talent" and "to make the most of this experience and have a lot of fun," three objectives she could easily check off her to-do list. And she's still singing, so if you want to hear more, be sure to check out her YouTube page.
Meanwhile, watch her full audition in the clip below, and don't forget to share with someone you know who has a big dream.
---
Share your story & inspire the world.
If you have an uplifting story we would love to hear about it! Share it with us here.