"What do you see when you look at this picture?
I see winter jackets that haven't made their way to the hand-me-down pile because I haven't had time to buy lighter jackets two sizes bigger (because our kids grow like weeds lately)…
I see toys in the wrong bins, no idea where the covers are, and not in the toy room because I can't keep up with three active kids who are constantly playing with different toys, just to jump to the next batch without cleaning up the first…
I see bare windows, reminding me I still haven't picked up the dry cleaning, or tackled any of the other 20+ tasks on the 'home-to-do' list because the 'work-to-do' list has been dominating any time I have for any list right now…
I could go on and on, but the point isn't what I see…it's why I feel the weight of everything I see, because I worry what someone else may think when they see this.
Which is RIDICULOUS, because…
Anyone in my house during the last crazy year of COVID knows our family, and most likely only sees the following…
Figurines in mixed bins, because Luca has loosened up his rigidity in needing things organized 'correctly' and is now creating his lines and scenes with diversity and without restriction…
Jackets by the door, ready to throw on for whatever outdoor adventure all three siblings wish to take on together…
Freshly painted walls by incredibly hard-working human beings, who helped us freshen up the space that overlooks a really amazing backyard…
A home that is lived in, and loved in, that doesn't take the time away from loving and living life, just to create picture-perfect spaces.
So I ask you…
What do you see?
Make sure you look at your heavy-feeling moments of life like this with the right lens…
Not the one it's so easy to get caught up in, colored by what you are worried someone else, who doesn't matter and will probably never see it, anyway, may think…
But with the one that reminds you there is one precious life to live, during which you are doing your best every day, and that is enough.
You are enough.
From our messy, loved and lived in home, to yours… I see you. And you are awesomely enough. XO."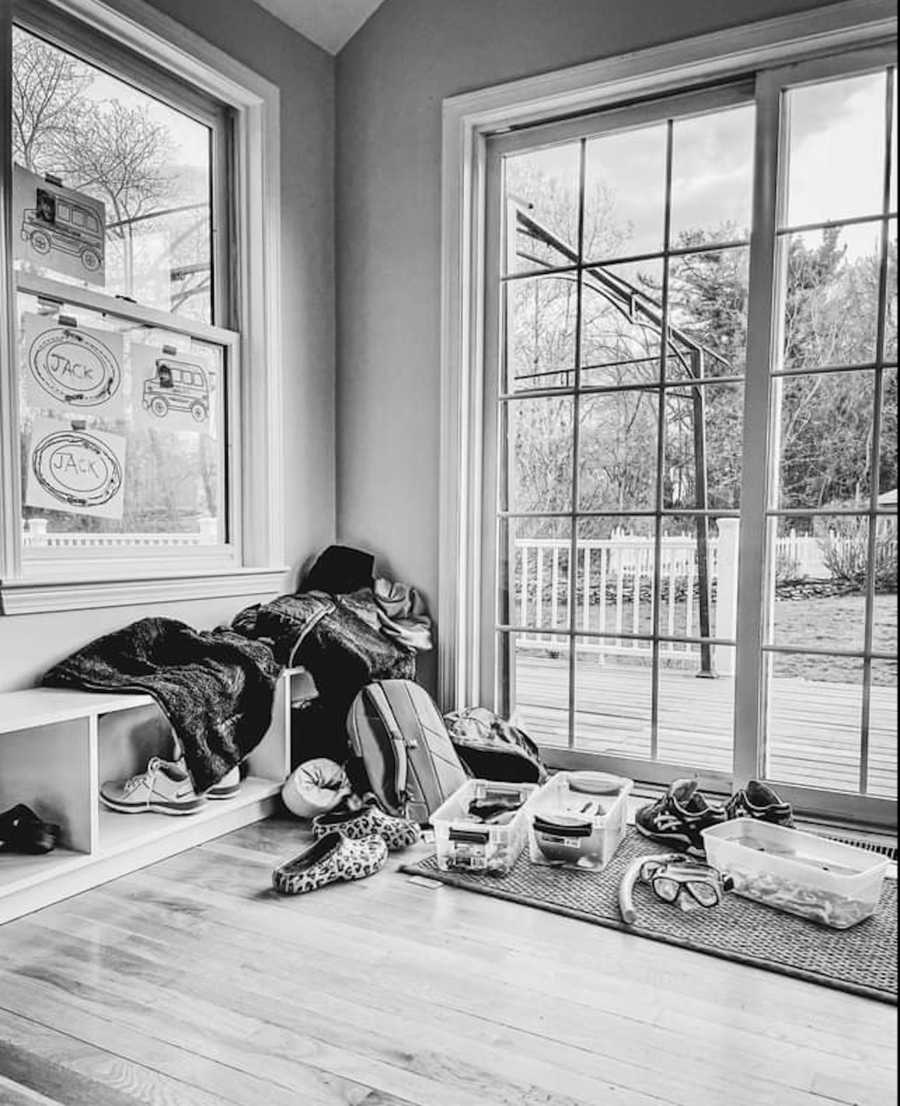 This story was submitted to Love What Matters by Christina Young.
Want more good news?
Sign up for Smile, our free daily good news email with over 600,000 happy and optimistic subscribers!
Share to Give!
$20.70 raised today to provide life-changing cleft surgeries to children in need with Smile Train! Learn more here.
Share to Give!
Every time you share an article, we donate to Smile Train to help provide life-changing cleft surgeries to children in need. Spread good news, change lives! Learn more here.
Proudly Supporting
Want to be happier in just 5 minutes a day? Sign up for Morning Smile and join over 455,000+ people who start each day with good news.