"My goal is to tell as many police officers as I can that I love them, and I am thankful for all they do for us."  So said 10-year-old Savannah Solis to officers at a New York City precinct.
When Savannah heard about the fatal shootings of two New York Police Department officers last December, she decided to something showing her appreciation for the sacrifices made by police officers. So, she personally painted and decorated 200 homemade thank you notes to give to them. How sweet is that?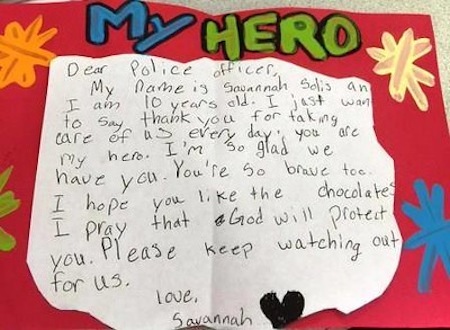 After receiving her heartfelt notes, NYPD officers thought of the idea to raise money in efforts to invite Savannah for a visit to New York. And they were successful! JetBlue covered her entire family's flight over. Upon her arrival, a ceremony was arranged so she could directly address the officers she cares about so dearly.
When delivering her message the officers, Savannah said, "To my heroes, I want to say, 'Don't stop.  Please don't give up.'  Many do not care or appreciate the sacrifices you make every day, but I do. . . . Officers of New York City, you matter to me.  Officers all across America, you matter to me."
Instead of accepting offers to sightsee and interview on multiple television stations, Savannah instead said, "I want to see more police stations." As of now, JetBlue will cover her flight to London, where she'll be able meet police officers in a different country! She has also been invited to Los Angeles, Toronto, and Australia.
Savannah's goal: "To tell as many police officers as I can that I love them and that I am thankful for all that they do for us."
Want to be happier in just 5 minutes a day? Sign up for Morning Smile and join over 455,000+ people who start each day with good news.