This is the story of a true rockstar. With an unbelievable amount of determination and positivity, 10-year-old Deven Jackson, from Shermans Dale, Pennsylvania, returned to football after a long, two year recovery.
Two years ago, Deven's parents rushed him to the hospital where he was diagnosed with life-threatening a case of meningitis. Doctors told the Jacksons that Devon had only a ten percent chance of surviving the disease, according to ABC News.
"He was in kidney failure,"his mother told ABC News. "They didn't know if he was going to make it.â€
His doctors, thankfully, were able to save his life but they were forced to amputate both of his legs below the knee. Deven then underwent several surgeries, after which his doctors gave him clearance to receive prosthetic legs. In the summer of 2013, Deven began to learn walk again. But that was just the beginning for Devin, his focus still remained on his ability to return to the sport he loved so much: football.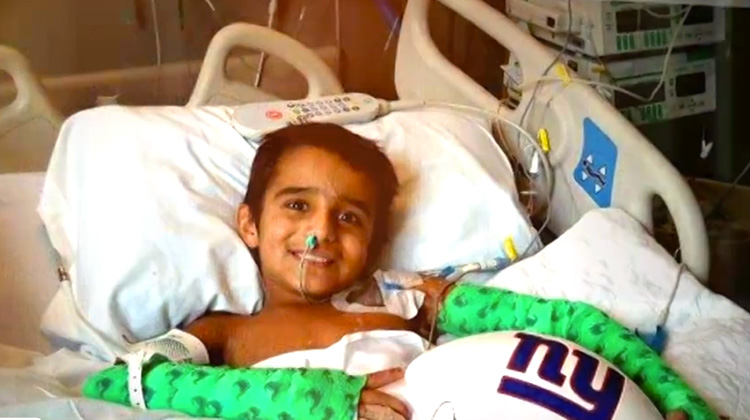 Deven recovers from his surgery with a smile on his face and, with no surprise, a football in his lap. [via ABC News]
"I thought I couldn't really play football because I wasn't really ready or in condition," Deven told PennLive.com.
Before this could happen, Deven's mother, Michelle, told him he'd first have to learn to run. That's when Camp No Limits in Florida came into the picture. The non-profit organization focuses on helping children with limb loss with their numerous camps. The camp allowed for Deven to try out running blades for the first time.
In April, Deven had another surgery to shorten his leg bones, which were still growing. "And by June," reported Fox News, "he was the proud owner of a pair of donated running blades — which usually cost between $5,000 and $10,000 each, according to Michelle."
CFA assistant commissioner Dave Bickel works with Deven Jackson on widening his stance. [via huffingtonpost.com]
David Jackson told Tim Tebow, who was interviewing for ABC News, that the first time his son put on his blades "he said he loved the way the wind felt in his face for the first time again, and that was pretty impressive coming out of a nine-year-old boy.â€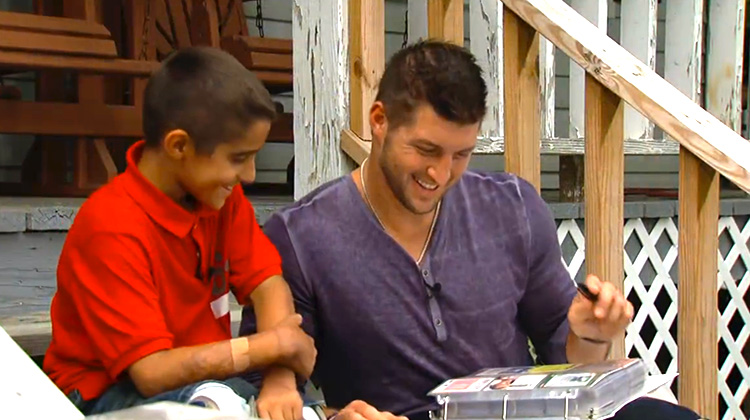 Deven and Tim Tebow hang out and look at some of his old pictures and all things football. [via ABC News]
Deven began working with a trainer three times a week during the summer to prepare for the next youth football season — and the comeback was quite challenging.
"He had me running, catching the ball, sprinting for passes, ladder drills," said Deven to Fox News. "Sometimes I get tired when I'm just standing … This season I'm going to train real hard and work hard."
Not only is Deven the only person on his team with a major disability, he is also the first double amputee in the nation to play contact football. It takes him almost two hours to put on the correct padding on his carbon fiber running blades to ensure the safety of everyone on the field, according to his coaches. That doesn't get him down, though. The strong-spirited boy is working harder than ever to reach his full potential and be as much a part of the team as ever.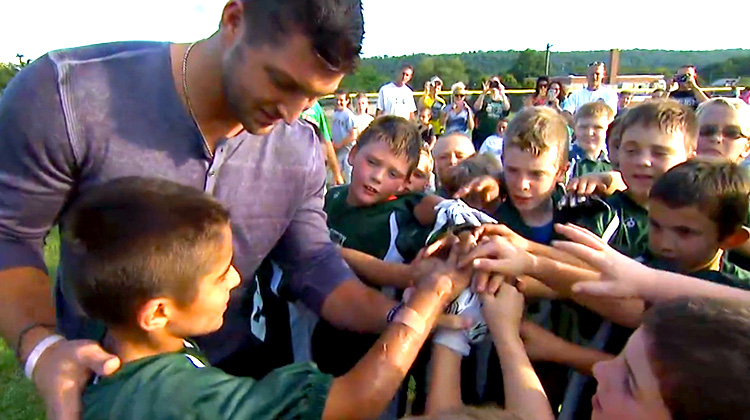 Tim helps Deven and his team in their group huddle, inspiring the entire team. [via ABC News]
Want to be happier in just 5 minutes a day? Sign up for Morning Smile and join over 455,000+ people who start each day with good news.